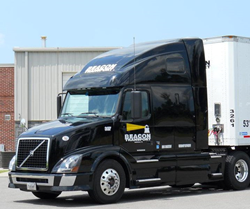 We are pleased to offer a pay increase for all of the hard work and dedication our driver's provide.
Nashville, TN (PRWEB) July 29, 2015
Beacon Transport, a Nashville-based transportation company, announced a pay increase that will take effect August 1, 2015. The pay increase will be effective company wide to reflect evolving market conditions as well as to ensure competitive pay structures for drivers.
"Our drivers are the heart of our company," said General Manager Stan Pritchett. "We are pleased to offer a pay increase for all of the hard work and dedication they provide."
Moving forward, Beacon will operate under the following pay structure:

Base pay will increase to 42 cents per mile (pay will no longer be based off years of experience).
Top out pay will increase to 46 cents per mile.
Layover pay will increase from $35 per night to $75 per night. Drivers are eligible if they sit a full 24 hour period (weekends do not -apply if dispatched on a Friday).
Detention pay will increase from $10 per hour to $15 per hour.
This pay increase supports Beacon Transport's mission to be a valuable truckload carrier to both its employees and customers. The trucking company offers several exciting opportunities for qualified divers as well as a vast array of benefits, including 401 k, life insurance, vacation pay and more.
In addition to the new pay package, Beacon will supply and install inverters in every tractor of a driver requesting an inverter. Beacon is also reducing the automatic idle shut-off feature on all trucks from 68 degrees down to 60 degrees. This will allow all trucks the capability to idle until the temperature drops to 60 degrees.
To learn more about Beacon Transport job opportunities, visit http://www.beacontransport.net/jobs-in-logistics/ or call the Beacon Transport recruiting department at (877) 277-0238 x 231.
ABOUT BEACON TRANSPORT
Beacon Transport, LLC, founded in June 2000 by Stan Pritchett and David Burns, is a leading irregular route truckload carrier servicing the Southeast, Southwest and Midwest. Headquartered in Nashville, TN, Beacon Transport is a respected truckload carrier known for providing superior customer service, hiring the most qualified drivers and maintaining an outstanding office staff. Learn more about Beacon Transport by visiting http://www.beacontransport.net.