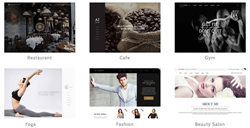 A solid, defined brand ... is essential to a business's success.
Venice, CA (PRWEB) July 30, 2015
WebVixxen Design has just introduced a new and affordable suite of branding packages. Price beginning at $3,500 for a limited time only, these full-service brand-building packages are conceived with cash-strapped start-up businesses in mind. They encompass everything start-ups need to establish a solid and competitive brand online … from branding, web design, photography, and SEO to social media campaigns and e-commerce solutions.
According to the "Harvard Business Review" (https://hbr.org/2014/06/start-ups-need-a-minimum-viable-brand/) "Start-Ups Need a Minimum Viable Brand." In fact, branding is "the foundation for a successful launch." Without it, the odds of failure increase exponentially. As evidence, "Entrepreneur" (http://www.entrepreneur.com/article/244598) magazine further points out this startling statistic: "about 476,000 new businesses are created each month," and half of them will fail. For those that wish to stand a chance, "A solid, defined brand … is essential to a business's success."
And nowhere in today's mobile-driven society are such branding efforts more important than online. WebVixxen Design intuitively understands the conundrum between needing to establish a reputable Internet brand and covering the costs involved with starting up a new business. To that end, the company is offering businesses that are just starting out an opportunity to fully brand themselves online starting for as little as $3,500 all inclusive. This special pricing is available for a limited time only.
What exactly will WebVixxen Design clients get for this price? Lana Antonova, the company's founder, explains, "Packages will include everything a start-up businesses will need to inaugurate an online presence." A brand identity, simple yet professional website, SEO, marketing strategies, photography and social media campaigns are all part of the package.
Although now an established design agency with clients around the globe, WebVixxen was once a startup itself, and Ms. Antonova remembers what it was like to be just starting out. "I was there once, so I know how financially difficult it is to get your dream off the ground. I want to make that easier for others, and the best way I know how is to stand by and hold their hand. From branding to social media campaigns, WebVixxen is poised to help guide the start-up in any way we can."
For more information on the limited time start-up branding packages WebVixxen Design is offering, contact WebVixxen Design at 310-310-2737. To learn more about the wide array of services WebVixxen provides to help businesses brand themselves, visit the company online at http://www.webvixxen.com.
###
About WebVixxen Design
Since the agency's inception, WebVixxen Design solutions have been the source for some of the most outstanding websites and web applications available on the World Wide Web. The company builds solutions that not only lead the industry but have a longstanding reputation for remaining at the top. Over the course of its tenure, WebVixxen has developed numerous large-scale websites and web applications, the work of which speaks for itself. Founder Lana Antonova's unique approach, philosophy and work ethic have proven their efficiency throughout hundreds of projects, resulting in tremendous sustained successes for WebVixxen's clients.