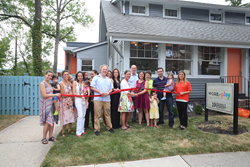 At Work and Play, we hope to create a community that supports parents who are trying to balance careers and families.
South Orange, NJ (PRWEB) July 30, 2015
On Monday, South Orange officials and families celebrated the Grand Opening of Work and Play (http://www.workandplaynj.com), a new coworking space with optional childcare that is located at 19 Prospect Street. The new facility offers a shared workspace and a Reggio-inspired childcare program, as well as rentable meeting rooms, an event or birthday party space, and a variety of classes for all ages that are open to the public.
Coworking, a term coined ten years ago, describes a shared office space that allows independent professionals a quiet place to work while offering collaboration and networking opportunities. Only a handful of such facilities worldwide offer the childcare amenity.
"There are hundreds of coworking spaces open nationwide, but combining childcare with coworking is a brand-new concept; only a few such centers exist around the world," remarked Deborah Engel, founder of Work and Play and a Maplewood mom of three. "South Orange is a prime location for this concept as many SOMa residents have flexible schedules or work from home. At Work and Play, we hope to create a community that supports parents who are trying to balance careers and families."
While some classes and programs are open to the public, membership is required to utilize the Work and Play coworking space and childcare program. A range of membership plans are available that give members a variety of choices to fit their needs. The All Access plan is the most robust, and for $250 a month, it gives members unlimited hours in the workspace and a $30 credit towards childcare fees or conference room rentals.
"The Balancing Act (20 hours per week for $125 per month) and Flex Membership ($75 flat rate for 15 hours in the workspace over three month) are our most popular plans. The Prospect'er and Back Up Plans are new, and we've designed them based on requests we've received from parents who are beginning to plan their fall schedules," says Engel. "We are really excited about our new plans — they will certainly solve the many problems that school holidays and snow days pose to working parents."
Childcare Program
The Work and Play childcare program is geared for children aged three months to five years and is available to members on weekdays from 9:00 am to 1:00 pm, and beginning in August, afternoon care will also be offered on Mondays from 3:00 to 5:00 pm.
At Work and Play, the trained staff believes the work of children is play. The curriculum is open-ended and designed to meet children at their developmental stage. Work and Play offers both indoor and outdoor classrooms, and provides materials that emphasize self-discovery and independence. Beth Goldring, Director of Play, oversees the program, which was designed by Maplewood resident and owner of The Workspace for Children, Lizzie Assa.
This fall, Work and Play is offering a variety of classes for members and non-members, including Scribble Art Workshop, The Little Moving Artist, Yoga Playhouse, Music for Aardvarks, and the Modern Family Center's Bagel & Blox. In addition, the popular Play Outside and Play Inside will be returning this fall.
The Work and Play community space is also available for weekend birthday party rentals. Party packages start at $100 per hour for Mess Up Our House, Not Yours, which is the basic room rental. Several party packages are extensions of Work and Play's childcare curriculum, such as the Play Dough Factory, where imaginations run wild while children mix their own play dough, and the Toy Reinvention Party, where attendees disassemble old toys to create new playthings.
About Work and Play
Work and Play, which is located in South Orange, NJ, is the first coworking space to offer flexible childcare in the tri-state area. The membership-based, newly-renovated facility is a two-story building with a shared workspace upstairs and a Reggio-inspired childcare program in its sunlit lower level. Both members and non-members can rent meeting rooms, attend a variety of classes, and plan an event or birthday party in the downstairs community space.