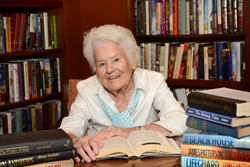 The group discussions not only provide intellectual stimulation, but also create a social setting for exchanging ideas and meeting new people.
Hingham MA (PRWEB) July 29, 2015
Research by the National Research Council, requested by the National Institute of Aging, finds a link between social engagement and the well-being of older adults. Welch Healthcare and Retirement Group Assisted Living Communities support healthy aging among residents and has found that book clubs, in particular, provide a stimulating mental activity as well as a way for seniors to engage with their peers.
A great book has the potential to bring readers on journeys beyond the imagination, open doors to new places and concepts, and melt away everyday concerns. At Allerton House at Harbor Park in Hingham, residents are taking the benefits of reading one step further with their newly established Book Club. Janeen Culhane, activities assistant at the assisted living and memory care community, says, "The idea of starting a book club was inspired by several residents who always seemed to be absorbed in a book. I thought they might enjoy sharing their common love of reading, and the Book Club took shape."
Clara Sheskey, a resident of Allerton House at Harbor Park and one of the club's founding members, notes, "I think the Book Club is a great idea. Everyone takes something different from a particular book, and it's interesting to discuss our unique perspectives." The group discussions not only provide intellectual stimulation, but also create a social setting for exchanging ideas and meeting new people.
The Allerton House in Hingham Book Club meets about every six weeks and welcomes all residents who want to participate, whether they have read the book or not. Culhane explains, "We have a core group of people who read the book, but others have a lot to contribute based on their own knowledge and life experiences." To facilitate the group, Culhane develops and distributes talking points and questions for discussion.
Still in its early stages, the Book Club continues to evolve. Culhane has selected the books to date, but members of the group will become more involved in choosing future titles. Since the first meeting, for which the books were purchased, the Hingham Public Library has partnered with Allerton House to supply them. "The library is able to get the number of copies we need through their relationship with other libraries, and can even provide large print books and books on tape," says Culhane.
Sheskey, who notes that she has always been an avid reader and is a frequent visitor to the library at Allerton House, found the first selection, The Immortal Life of Henrietta Lacks, by Rebecca Skloot, "fascinating." This true story about how the cells taken without her knowledge from a poor, black mother of five who died of cancer at the age of 31 in the early 50s became one of the most important tools in medicine prompted Sheskey to call her grandson, who is involved in stem cell research at the University of California. "He told me those cells continue to multiply and are still being used for research today," she says.
"People may think of reading as a solitary activity," says Culhane. "But at Allerton House it has become very interactive. Everyone who participates in our Book Club is actively engaged and involved."
Allerton House in Hingham provides traditional assisted living as well as a dedicated memory care neighborhood. The community is owned and managed by Welch Healthcare and Retirement Group, which has been providing senior services for more than 65 years. Call or email Carol Taylor to arrange a complimentary luncheon and personal tour at 781-749-3322 or at ctaylor(at)welchhrg(dot)com.
To learn more about Allerton House in Hingham or other Welch Healthcare and Retirement Group Assisted Living Communities visit online at: http://www.welchhrg.com.