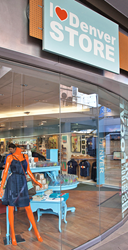 "Our success is due in large part to the talented Colorado artists and designers whose products we carry. Multiple locations will allow us to support many more local creatives." said I Heart Denver Store owner Samuel Schimek.
Denver, CO (PRWEB) July 29, 2015
I Heart Denver Store has announced that it will open a second store location in fall 2015 as part of the redevelopment of Southwest Plaza Mall in Littleton, Colorado. The store's second location will be in addition to the store's flagship location in the heart of downtown Denver at Denver Pavilions off the 16th Street Mall.
I Heart Denver Store is an award-winning retail project to support Denver and Colorado's creative economy. I Heart Denver Store just celebrated its four-year anniversary, and during those four years the store has supported over 300 local artists, designers, and creative-focused businesses all based in Colorado. An average of 180 local artists and designers have their works in the store at any given time.
Since opening in April 2011, I Heart Denver Store has sold over $2.3 million in local design goods, with roughly $1.6 million paid directly back to the artists and designers for the sales of their goods. An unprecedented 70% of sales is returned to the artists whose products the store promotes and sells. By opening a second retail location, I Heart Denver Store will have the opportunity to showcase the creative talents of an even greater number of Colorado artists.
Construction of the second store will take place from August to October 2015. During this same timeframe, I Heart Denver Store will also be in the process of expanding its online presence and web store offerings to include art and design from more Colorado artists. At a time when creative vitality drives local economies I Heart Denver Store continues to be a model that improves entrepreneurial growth.
A Kickstarter campaign is live now where members of the community can help fund the new store construction. Funding form the community is vital to keep overhead costs low so that the store can continue its generous consignment model and support more local artists. Anyone who wishes to contribute can visit the campaign online at http://kck.st/1JB7XPR or visit kickstarter.com and search "I Heart Denver Store". The funding campaign runs through August 22nd, 2015.
In 2015, Westword named I Heart Denver Store "Best Store on the 16th Street Mall." In 2014, Westword named I Heart Denver Store "Best Colorado Everything" and named Schimek one of Colorado's Top 100 Creatives. The store has been profiled by The Atlantic, Sunset Magazine, Alive Magazine, The Denver Post, 5280 Magazine, The Denver Business Journal and CBS4.
The second I Heart Denver Store will be included as part of Southwest Plaza's much-anticipated multimillion-dollar redevelopment, which is transforming the retail landscape of the mall and providing an exceptional shopping destination for residents of southwest Denver. The 1.3-million-square-foot mall will showcase exciting fashion retailers, iconic restaurants and a dining terrace with spectacular mountain views.
  
I Heart Denver Store is an award-winning business model that provides capital to local artists and designers to help them grow their businesses. As part of this model, the store exports the local creative culture to residents and tourists through the sales of 100% local art and design goods, as well as develops partnerships that strengthen Denver and Colorado. The store currently supports over 180 artists, designers and design-focused businesses all based in Colorado. For information, visit http://iheartdenverstore.com or https://www.facebook.com/iheartdenverstore.
Images available upon request. samuel(at)iheartdenver(dot)info