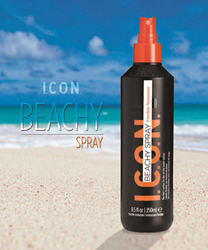 Los Angeles, CA (PRWEB) July 29, 2015
In the past, the highly sought after bohemian hair flair of summers swept away at the beach were difficult to translate into other seasons. Now with I.C.O.N. Products Beachy Spray, hair can be set free with uncomplicated abandonment and sun protection, as styling is shaped and molded into intentional, untamed looks. The effortless flow of free-spirited hair trends that express shore-kissed hair on those endless days of summer can now be year round.
Beachy Spray's lightweight formula is seasoned with natural sea salt to plump the hair shaft while adding extra body for volume and bounce. Urging the styler to play with a natural mane of curls with waves like the ocean, its warm summer breeze fragrance smells of sunshine without competing with perfume or lotion. Using a styling polymer that flexes the hair shaft and dehumidifies for lasting hold, this blended balm of conditioning agents rejuvenate and hydrate, leaving hair pliable and touchably silky with a satin finish. Beachy Spray brings frolic and ease as the wearer mists to create twisted, braided, scrunched or pressed hair, depending upon the type of hair and texture wanted to achieve.
Not all sea salt sprays are created equal. While most have been known to wreck havoc on hair, resulting in severe dryness, I.C.O.N. has created a special formulation to deflect the harsh effects of this mineral and rays of the sun in mind. Beachy Spray's active ingredients include deep infusion of essential nutrients and is safe for color-treated hair. Vitamin B5 serves as a humectant to increase hydration, improve elasticity, and de-stress hair. Vitamin A contains antioxidants to condition and moisturize the sebum in the scalp, fight off free radicals that weigh down hair, and strengthen strands to prevent breakage. Vitamin E heals dryness and split ends and promotes more lustrous, stronger, and overall healthier.
I.C.O.N.'s Owner and Creative Director Chiara expressed, "Although we technically only have a month left on the calendar, the sexy beach looks from the last days of summer never have to end. We are excited to launch another Liquid Fashion product in the collection, especially one that mimics a look exclusive to one particular season. It leaves the hair feeling voluminous with mobile texture and makes you feel as if you stepped right out of the ocean. What sets ours apart from others, is the addition of protective antioxidants and moisturizing vitamins."
Beachy Spray is $24 (8.5 oz.) available for purchase at ICONproducts.com. Stay connected: @ICONproduct @ICONproducts
ABOUT I.C.O.N. Products: Worldwide hair care leader, I.C.O.N. Products was launched in Europe and North America in 2002. Its products are sold in professional salons internationally. Its philosophy is to produce eco-safe care products and create Liquid Fashion with its conscious styling, coloring and finishing tools to continuously challenge the perception of beauty. I.C.O.N. has consistently broken established, industry rules to provide a balance of identity and "intelligent style." All I.C.O.N. Products are crafted using EcoTech formulations, combining the best of ecology paired with advanced technology. The company offers expansive education and twice-yearly haircut collections via the Front Row. For more information on the brand as a whole, please visit their global website ICONproducts.com.