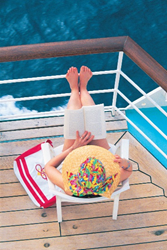 This new promotion is an excellent way to offer a great value to our solo guests
Seattle, WA (PRWEB) July 28, 2015
For the first time, Windstar Cruises offers solo travelers the chance to experience the trip of a lifetime with waived or reduced rates on select voyages booked by September 18, 2015. Windstar extends this more affordable style of single cruising on more than 130 voyages including itineraries in Panama, Costa Rica, Tahiti, the Caribbean, and the Mediterranean. The Single Supplement is completely waived on 43 itineraries, with a 10-25% discount on 94 voyages.

Waived Single Supplement – Dreams of Tahiti, Glitter and Glam of the Rivieras, Caribbean Delights and Panama Passages, Morocco and the Canary Islands, and more.
10% Single Supplement – Black Sea Tapestry, Classic Italy and the Dalmatian Coast, Naturally Costa Rica, and more
15% Single Supplement – Classic Caribbean, Jewels of the Windward Isles, Spanish Serenade, transatlantic crossings, and more
20% Single Supplement – Best of the ABC Isles, Culinary and Wine Delights of Spain and France, Tahiti and the Tuamotu Islands 10 day, and more
25% Single Supplement – San Juan and the Virgin Islands, Secrets of the Southern Caribbean, Treasures of Southern Spain and Morocco, and more
All fares include an ocean view stateroom or suite, fine dining, and a complimentary Private Even -- an exclusive onshore cultural experience offered only on Windstar. The waived or reduced single supplement is combinable with Windstar's Three Free Shore Excursions and All Inclusive offers.
"This new promotion is an excellent way to offer a great value to our solo guests, so if you're debating a little 'alone time' for your next trip, now is the time to book," says Hans Birkholz, CEO of Windstar Cruises.
Offer expires September 18, 2015. Contact your travel professional, visit the website or call Windstar Cruises at 800-258-7245.
About Windstar Cruises
Windstar Cruises operates a fleet of small luxury cruise ships known for its intimate, yacht-style experience and unique voyages to the world's best small ports and hidden harbors. Its three recently renovated sailing yachts carry just 148 to 310 guests and cruise to 52 nations, calling at 155 ports throughout Europe, the South Pacific, the Caribbean, and Central America. In May 2014, Windstar launched Star Pride, the first of three newly acquired power yachts. In May 2015 the company launched Star Breeze and Star Legend. The power yachts, with a capacity of 212 guests each, doubled the size of Windstar's fleet, making the company the market leader in small ship cruising with 300 or fewer passengers, with a total of 1,242 berths. Windstar was recently named Condé Nast Traveler's World's Best Small Ship Cruise Line.
For more information including rates and itineraries, contact a travel professional or call Windstar at 800.258.7245, or visit http://www.windstarcruises.com.
###