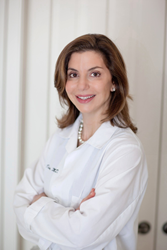 "If Botox can cause regeneration of elastin and collagen as well as relaxing the muscles, it can go a long way toward creating a more refreshed and youthful appearance," stated Dr. Isaac
Washington, D.C. (PRWEB) July 30, 2015
A July 15 Deccan Herald article titled "Does Botox Rejuvenate Skin?" discussed a study that found that Botox may have a positive effect on skin elasticity and firmness. Botox has long been used to reduce the appearance of wrinkles, but until now it has not been thought to have rejuvenating effects on the skin itself. Dr. Melda Isaac, director of prominent Washington, DC practice MI-Skin Dermatology, comments on this study's findings.
"Botox is one of the most common cosmetic dermatology procedures for men and women, and if it has further effects beyond just wrinkle reduction it could become even more popular," said Dr. Isaac. "Skin elasticity unfortunately decreases as we age and people are always looking for means to rejuvenate their skin."
Botox works by relaxing the specific muscles causing wrinkles through repetitive motion. For this reason, it is used only for dynamic wrinkles, such as crow's feet, not static wrinkles such as marionette lines. When done by a skilled injector, Botox can reduce the appearance of wrinkles while still preserving a person's ability to create facial expressions.
"This is an exciting study for dermatologists," stated Dr. Isaac. "Further research could create avenues to pursue for even better and less invasive skin rejuvenation techniques. Botox is already a multi-tasker, able to stop excessive sweating and help with chronic migraines. Perhaps Botox has even more uses to be discovered."
Researchers aren't sure why exactly there is a skin rejuvenation effect with Botox, but they plan to conduct further research to hopefully find a cause. There are a number of potential reasons why Botox causes increased elastin and collagen production, including an antioxidant effect, or simply that by relaxing the muscles Botox gives the skin a chance to recover from constant motion and regenerate key proteins. Whatever the reason, the fact remains that there is a temporary rejuvenation effect with Botox injections for certain patients.
"The combination of repetitive movement plus reduction in elastin and collagen as we age contributes to the appearance of wrinkles and causes us to look older," explained Dr. Isaac. "If Botox can cause regeneration of elastin and collagen as well as relaxing the muscles, it can go a long way toward creating a more refreshed and youthful appearance."
Dr. Melda Isaac is a board-certified dermatologist located in Washington, DC. Her practice, MI-Skin Dermatology Center, is a comprehensive skin care practice which offers the latest and most advanced state-of-the-art technology to improve the skin's appearance. Dr. Isaac obtained her medical degree from Penn State University, and completed her dermatology residency at George Washington University. She is an active member of the American Academy of Dermatology, the American Society for Dermatologic Surgery, the Women's Dermatologic Society, the American Society for Laser Medicine and Surgery, and the Washington, DC Dermatologic Society.
You can find out more about Dr. Isaac and MI-Skin Dermatology Center at http://www.mi-skin.com.