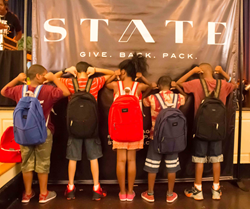 New York, NY (PRWEB) July 29, 2015
SoCozy Kids' Hair Care, officially launched their first annual Back-To-School (BTS) Campaign, in partnership with STATE Bags and Roads to Success, addressing the immediate needs of local kids living with challenging circumstances.
The BTS Campaign launched July 24th 2015, with a bag drop event at Roads to Success in Bronx, New York and continues the 'buy one, give one' campaign online at SoCozy.com. There are so many kids in the U.S. that don't have access to back to school basics. In the spirit of making change happen starting at the community level, SoCozy is taking action to ensure the kids at Roads to Success go back to school in style armed with all the supplies they need.
Cozy Friedman, founder of SoCozy, has long been a force in supporting, motivating, and connecting with moms and kids in local communities, and this campaign captures that spirit, and aims to bring the message across the country.
"At SoCozy, we have made a commitment to making a difference in mothers and kids' lives," says Cozy. "The partnership with STATE Bags and Roads to Success exemplifies our mission to build confidence and inspire originality, because we believe every kid deserves to feel good about going back to school."
During this back-to-school collaboration, SoCozy aligns with like-minded partners STATE Bags and Yoobi school supplies, ensuring each backpack is filled with the tools they need to start the year off right.
CAMPAIGN KICK-OFF: SoCozy + STATE BAGS + Roads to Success
The campaign kicked-off in Bronx, New York with a high-energy motivational Bag-Drop Event hosted by STATE Bags and SoCozy to support local New York City charity Roads to Success that provides after school programs for underserved neighborhoods. The party ends with the surprise of a new backpack for all 300 kids and allowing them to fill it with Yoobi school supplies, Skinny Pop Popcorn, SoCozy hair care and Bomba Socks.
GIVE. BACK. PACK: SoCozy STATE Bag @ SoCozy.com
In an effort to take the campaign nationwide, a special edition custom SoCozy STATE Bag will be available for purchase on SoCozy.com for a limited time with all proceeds benefitting the 2015 Back to School Program initiative. Every purchase made makes a difference. SoCozy and STATE have your back.
The SoCozy STATE bag backpack sold on SoCozy.com features bright eye-catching colors, a main storage compartment with supply organizers, key clip and iPad pocket, a zippered front pocket, and Velcro side pockets. For every SoCozy State Bag sold on SoCozy.com, one backpack is filled with school supplies and is hand-delivered to a child in need, giving a kid the essential tools for success.
Every purchase made makes a difference. SoCozy and STATE have your back.
"Our larger goal as a company is to continue to grow our network of support for moms and kids," says Cozy. "By affording children more opportunity, with these basic school supplies we want to help them succeed, and grow their confidence."
About SoCozy:
Author and beauty veteran Cozy Friedman first opened Cozy's Cuts for Kids, a premiere children's hair salon aimed at redefining the entire children's haircut experience, in 1992. Now, 20 years and multiple salons later, Friedman introduces SoCozy salon formulas for kids - the first ever premium line of hair care products made with the finest ingredients gentle enough for kids. Offering non-toxic products with no parabens, sulfates, phthalates, synthetic color, propylene glycol and free of gluten, wheat and nuts that perform at a salon level with packaging that appeals to kids and parents alike. SoCozy celebrates all hair types and solves a range of common hair care problems faced by children. For more info please visit http://www.SoCozy.com.
About STATE Bags:
STATE is a one-for-one Brooklyn born benefit corporation whose mission goes beyond selling cool and classic bags. Founded by Jacqueline & Scot Tatelman in 2013. Jacq and Scot are the definition of social entrepreneurs as the two created Camp POWER in 2009, a nonprofit summer camp for at-risk Brooklyn children. After watching countless kids carrying their necessities in trash bags, STATE was born. STATE addresses the immediate needs of American children living with challenging and critical circumstances. For every bag purchased, STATE hand-delivers one to an American child through its motivational bag drop rallies. #GiveBackPack
About Yoobi:
Yoobi, pronounced "you-be", "means one for you, one for me" For every Yoobi item purchased, a Yoobi item will be donated to a classroom in need, right her in the U.S. Yoobi was born to make colorful, vibrant tools that spark learning and creativity. Not only did they want to perk up the school supplies aisle, but they wanted to help solve a very big problem.
About Roads to Success:
Roads to Success was founded in 2001 to provide afterschool programs to young people in underserved communities. Roads to Success operates nine after-school programs serving over 700 New York City children. Roads dispatches a committed core of young group leaders, instructors and site directors to provide homework help, academic enrichment activities, exposure to the arts and recreational activities and community service learning opportunities.