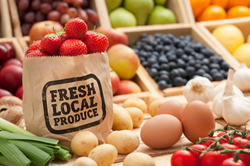 "We are Oklahoma grown and processed only," she said. "We want to provide the citizens of Duncan with healthy food."- Tori Sparks
Duncan, OK (PRWEB) July 31, 2015
Locals and visitors are in for a treat if desiring farm to table produce and home made products. Two Farmers Markets in Duncan are offering fresh, locally-grown items at two different locations three times per week.
The Duncan Farmer's Market officially opened on April 12. This outside market, which is certified as a farmer's market through the Department of Agriculture, is a one-stop shop for eggs, meat, fruits and vegetables and even handmade craft items.On Thursdays from 5:00 to 7:00 p.m. you will find its vendors in its location in front of Orscheln Farm and Home at 3800 Highway 81. On Sundays, the market is held from 1:00 pm to 5:00 p.m. in the northwest parking lot at Duncan Regional Hospital, off of Elk Ave. For more information or to see which vendors are attending contact Tori Sparks through their FaceBook page.
The Market at the Park officially opened on July 25 in Fuqua Park located at the corner of the historic Chisholm Trail/Hwy 81 and Beech Ave. Located indoors in the garage of the Stephens County Historical Museum, the market is on Saturdays from 8:00 am to noon. Vendors have a wide variety of home grown produce and wares available. For more information contact Cova at the Stephens County Historical Museum at 580-252-0717.
For general information about the Farmers Markets, contact The Duncan Convention and Visitors Bureau at 1-800-782-7167 or http://www.visitduncan.org.