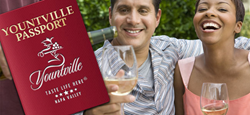 Our participating business members and guests have found the passport program easy to use and are extremely happy with the program.
St. Helena, CA (PRWEB) August 03, 2015
CellarPass, the leading guest management platform that makes it easy for wineries and tasting rooms to sell tickets for events online, has announced the official launch of their new passport management platform, enabling passport event organizers to run their special events more effectively by better understanding their attendees through proper business intelligence.
The new platform is flexible enough to handle any size or frequency, from weekend to year-long, passport programs. "Designing a platform that provides the proper features and functionality is a delicate balance of delivering an intuitive interface and providing the key features other platforms like Eventbrite do not have," says Jonathan Elliman. "This is where we saw many of the available ticketing platforms fell short, or requiring way too much information as part of the purchase process. This no doubt led to plenty of lost sales from our perspective."
Most passport programs are run through a simple shopping card that comes up short on consumer data capture because they are "one-size-fits-all" solution. And since these systems lacked the proper guest and event management features, participating tasting rooms received little to no understanding of who their guests are or where they've visited. "For special events like passports, it's vital to know everything from consumer intent to physical guest movement during an event," says Jonathan.
Though the passport program has been in beta for just a couple of months, increased sales results and consumer feedback is flowing in. "The Yountville Chamber of Commerce is proud to be working with CellarPass on the 'Taste Life Here' Winetasting Passport program," says Sarah Farlie, Marketing & Social Media Manager at Yountville Chamber of Commerce. "Teaming up with CellarPass just made absolute sense," continues Farlie. "Our participating business members and guests have found the passport program easy to use and are extremely happy with the program."
"Trinitas Cellars, a popular Napa Valley winery, is very excited to work with CellarPass utilizing their passport platform for our participation in Crusher Wine District is hosting Wine Hopper Weekend events," says Betsy Busch, Proprietor of Trinitas Cellars. "Given the close proximity of our participating tasting rooms, running a passport program is perfect since it that allows guests to purchase a passport online which can be used at multiple tasting rooms," says Busch. "We love it for easy check in, the ability to create our own check-in offers and better understanding of our guests."
About CellarPass
Launched in 2010, CellarPassSM is your online travel agency that makes it easy to plan your next vacation to wine country. Explore our site, mobile app while following us on Twitter and Facebook to discover new destinations and getaway ideas, get information about tasting rooms, wineries, hotels, car rentals, activities and more. Wherever you go, CellarPass provides a wealth of information that makes it very easy to plan and book your next trip to wine country.
The CellarPass Reservations iOS App is available for download in the Apple App Store here.
For more information, please contact Sarah Elliman at (707) 255-4390. Follow CellarPass on Facebook at http://facebook.com/cellarpass and on Twitter at http://twitter.com/cellarpass to get the freshest updates.