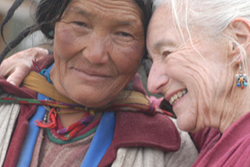 For every trip booked in 2015, Myths and Mountains will donate a percentage of its profits to READ Global in Nepal.
Incline Village, Nevada (PRWEB) July 30, 2015
This fall, take advantage of the travel lull between major holidays by embarking on a cultural and philanthropic journey with award-winning experiential tour operator Myths and Mountains. The weather is still great, kids are back in school, airports aren't nearly as busy and there are countless off-the-beaten-path adventures to be taken. Myths and Mountains offers unique tours that will immerse travelers in their surroundings, connect them with local people and cultures as well as give back to the communities visited.
For nearly 30 years, Myths and Mountains has offered intimate, handcrafted experiences based on clients' unique travel preferences. Whether travelers want to explore one country to the fullest, discover diverse cultures across borders or take part in a philanthropic mission, Myths and Mountains will customize any trip to fit a specific travel schedule, budget and individual interests.
Here are a few amazing fall adventures to consider. Trips are limited to small groups so book now:
READ India: Nagas, Rhinos and Libraries – India's Northeast (14 Days)
Oct. 31-Nov. 13, 2015
India's Northeast is one of the most colorful parts of the country - home to Nagas, Khasi and other tribal cultures. Discover small ethnic villages and explore Kaziranga National Park, where the subcontinent's largest number of one-horned rhinos roam. Head next to Imphal, the capital of Manipur and visit the town plus two very different communities housing READ libraries. Founded by Myths and Mountains, READ Global (http://www.readglobal.org) is an independent nonprofit 501c3 that builds fully sustainable community library resource centers, creating viable villages where locals can live, learn and prosper. End the journey in Shillong, capital of the state of Megalaya, and spend time with the matrilinear Khasi culture. Guests will explore this beautiful land by car, train and on foot with Myths and Mountains Founder Dr. Neubauer and expert local guides. A portion of every booking is a tax-deductible donation to READ Global.
Across Bhutan (14 Days)
Nov. 7-22, 2015
Bhutan is a small, Buddhist kingdom in the eastern Himalayas with a rich and diverse cultural heritage. Traveling across the entire country, travelers will climb up to Tiger's Nest Monastery; visit with local families; meet artisans and indigenous people; wander colorful markets; and spend time at local hospitals, schools and libraries, including the first READ Library ever built in Bhutan. During this fall trip, travelers also enjoy three festivals - the annual Black-Necked Crane Festival in Wangdue as well as two different Tsechu festivals in Mongar and Trashigang. Note: Most foreigners (including Americans) are required to travel with a Bhutanese tour operator or international partner like Myths and Mountains, and founder Dr. Antonia Neubauer is Wendy Perrin's Trusted Travel Expert for Bhutan. Dr. Neubauer will accompany guests on parts of this trip.
Indochine: Vietnam, Laos and Cambodia (15 Days)
Nov. 29-Dec. 13, 2015
This marvelous blend of the Vietnamese ocean world, Laotian Mekong world and the Cambodian Khmer civilization is a superb trip for families and individuals alike. Discover diverse cultures, past and present, in Saigon, Hoi An, Hanoi, Luang Prabang, Vientiane, Siem Reap, Angkor Wat and many other towns and villages along the way. Conde Nast Traveler readers voted Siem Reap and Luang Prabang as two of the Top 25 Cities in the World (2014) to visit. Several fun activities include: exploring the Mekong Delta (a Travel + Leisure "Best Places to Travel" 2015), eating dinner with locals, biking around Hoi An, visiting the My Son World Heritage Site, enjoying a special Cheo musical performance, walking through the Talat Night Market, taking a boat to the famous Pak Ou Caves, participating in a Baci Ceremony and Lao dancing, visiting textile markets in Vientiane, touring the Cambodian Landmine Museum, receiving a blessing from monks and so much more. Learn more about the Ancient Kingdoms of Southeast Asia in Myths and Mountains' recent blog post.
For more information on fall tours with Myths and Mountains, including custom tours, check out the diverse itineraries at http://www.mythsandmountains.com or contact the home office at travel(at)mythsandmountains(dot)com or 1-800-670-MYTH. Read Myths and Mountains' blog (http://www.mythsandmountains.com/blog) and follow them on Facebook, Twitter, Google +, Instagram and other networks.
###
Support Nepal
For every trip booked in 2015, Myths and Mountains will donate a percentage of its profits to READ Global in Nepal. READ Global was founded by Myths and Mountains in 1991 and is now a separate 501c3. With 59 READ Centers in rural Nepal, READ is helping its villages devastated by the earthquakes with blood banks, tents, ambulance services, childcare and other needed support.
About Myths and Mountains
Veteran adventurer Dr. Antonia Neubauer founded Myths and Mountains in 1988 to foster intimate cross-cultural experiences, offering tours designed to take travelers to the very heart of the places they visit. The company's mission to provide handcrafted, experiential journeys has created a solid place for Myths and Mountains in the adventure travel industry. They were named as Trusted Travel Experts on the 2015 Wendy Perrin WOW List; Allie Almario is the WOW expert for Ecuador and the Galapagos, while Dr. Neubauer is the WOW expert for Bhutan and Nepal. Dr. Neubauer has also been Condé Nast Traveler's Nepal Top Travel Specialist since 2011. Achievements: "Top Ten Best Adventure Travel Companies on Earth" – National Geographic Adventurer, 2009; "Ultimate Adventure Outfitters From Around the Globe" – Travel + Leisure Magazine, 2010; "50 Tours of a Lifetime" – National Geographic Traveler, 2013 and 2015.
READ Global
Established in 1991 by Dr. Neubauer, Rural Education and Development (READ) Global has become a catalyst for systemic and sustainable change in rural Bhutan, India and Nepal. READ libraries and resource centers are operated by the local community and give two million people access to books and trainings they would not have otherwise. In 2006, READ Nepal won the Bill & Melinda Gates Foundation's Access to Learning Award in recognition of the innovative efforts to connect people to information. READ was also a recipient of Travel + Leisure's Global Vision Award for Development in 2010, the 2013 University of Pennsylvania's Wharton School Lipman Family Prize and the 2014 "London Observer" Ethical Award. READ is an independent 501c3 located in San Francisco.