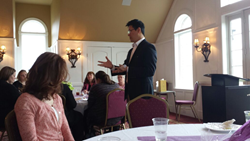 He has a strong background in negotiation techniques and the workshops he provided for our sales teams led to immediate improvements in our pricing and close rates.
Roanoke, Virginia (PRWEB) August 04, 2015
Experienced negotiation expert and coach, Allan Tsang, has announced an exclusive workshop series designed to teach high-level executives the techniques needed to help them negotiate major deals with Top Fortune companies.
The system provided within Tsang's exclusive workshop series helps executives overcome bargaining table obstacles while negotiating high stake deals with confidence. Executives learn effective methods for resolving emotionally charged conflicts. Once they've participated in the workshop, executives will feel more prepared to negotiate at a higher level for the organization.
Tsang's workshops and coaching have generated proven results for his clients including:

A 400% increase in new sales within one year
A 200,000% ROI (not a typo) on a deal
A 35,000% ROI within 3 months
An Increased profit margin for a 20+ year company by 15% within 12 months
Workshop Topics Include:

Negotiating with Top Fortune Companies
Negotiating to maximize profits
Negotiating with aggressive buyers with confidence
Negotiating with integrity and without compromising
Building and Developing a winning sales team of top negotiators
Interested in more information?
Request a free 1-hour assessment to determine the best workshop to fit your needs.
Contact: Allan Tsang, 88owls
E-mail: allan(at)88owls(dot)com
Website: http://www.88owls.com/
Phone: 540-392-4668
About 88owls
As an accredited business advisor, analyst, and executive coach, Allan has worked with hundreds of companies. These organizations include IT and Engineering, Bio-Medical and Aerospace, Inc. 500 companies, and Fortune's "100 Best Companies to Work For". Allan was named one of the Top 20 Under 40 by the Blue Ridge Business Journal, Nominated for the NCTC's "Rising Star" and "NewVa Leadership" Awards, and received additional training from the "Start with No" Camp Negotiation Institute.
Testimonials:
John Schott- Senior Executive, Teleworks
Allan is a multi-dimensional individual that has helped my business on multiple occasions in several different types of business improvement efforts. He has a strong background in negotiation techniques and the workshops he provided for our sales teams led to immediate improvements in our pricing and close rates. He also provided hands-on, one-on-one coaching and training for both individual sales people as well as senior managers. He is a unique individual that can think both strategically and tactically to identify effective solutions in any number of business situations. He is an honest and forthright individual, and I look forward to working with Allan again in the future.
Rob Glenn- Owner, RG Research
Allan led a two-day strategic planning retreat for a non-profit organization that is in disarray. Both the board of directors and the staff were part of the retreat. Allan's developed format is one of the best I have ever seen. His approach to strategic planning is brilliant and realistic. We will continue working with Allan in followup sessions to hold ourselves accountable. I would both recommend Allan highly and I would definitely engage him again.
Aaron Herrington- Co-Founder, Modea
I worked with Allan when he helped us develop a strategy for securing business from a former client. Allan worked hard to understand the dynamics of the situation and helped us create a solution that was ultimately successfully executed.
Tom Tanner, EA, PMP- Small Business Consultant at Roanoke Small Business Development Center
I recently asked Allan to do a workshop for the Small Business Center on Learning How to Negotiate. The first workshop was an introduction to negotiating. The class was a hit, and the participants wanted more. Allan agreed to do a second, longer class where he could provide much more detailed information and perform some creative exercises and role playing. Again the class was a hit and all the participants found the class enjoyable and good value. We will continue to work with Allan in the future on other classes. Certainly can recommend him.
Nicole Haskins- Director of Sales - Billing & Payment Solutions for Utilities & Local Governments at Paymentus
Allan was hired to train my team on the art of negotiations. I use the word art as it truly is a gift that has been crafted. I expected a few hours of hearing examples and phrasing that I had heard many times before and of course read in many books. However, I was definitely surprised that not only was I completely engaged in the discussion but Allan had a communication method and technique that allowed me to learn this craft and art as I had never before seen. He took a room of 20 students of negotiation and in a few hours was able to convey his message, teach his techniques, and deliver a very memorable and everlasting impression of a methodology that my team will be better off with its understanding. I would hire Allan to teach my team , my colleagues, and my peers many times over and anyone that spends time with him in his craft will understand why.
Lynda Foster- Cortex Leadership Consulting
Allan is fantastic to work with! What separates him from others is that he has a brilliant mind that instantly connects people in a synergistic way. He is always working hard to deliver value to every project and relationship he is involved in. He looks out for you, first and foremost. He is selfless in the way he approaches his business dealings.
###