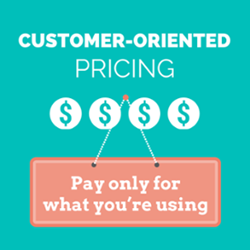 Our customers are the lifeblood of our company and it's critically important that we establish a mutually beneficial relationship. We want our customers to use the heck out of our system without being punished for it
Portland, OR (PRWEB) July 29, 2015
Lucid Meetings has released a new customer-oriented, pay-per-use pricing model. Starting now, customers will pay only for the number of people who actually run meetings in a given month.
According to TechCrunch, the most economically beneficial model for end users is 'pay-per-use,' where customers pay based on what they actually use. By forsaking licensing or subscription arrangements, enterprises are able to use any product, at any time, as much as they need, without having to pay for software they don't use."
Services will always be underutilized when they are available using a subscription-based model. As an example, nobody wants to pay for 500 TV channels they don't actually watch. This highly publicized debate has caused several cable subscribers to completely cancel their subscriptions and ultimately look elsewhere for better services.
"Our customers are the lifeblood of our company and it's critically important that we establish a mutually beneficial relationship. We want our customers to use the heck out of our system without being punished for it," says John Keith, Lucid Meetings CEO.
"Customers should be able to use Lucid Meetings as easily as possible to meet with anyone, at any time, in any context. We want to avoid introducing artificial constraints that limit our customers' ability to use the service fully."
The Risk-Free Challenge
Now that they have taken a stand, they are urging other vendors to do the same.
Lucid Meetings challenges similar subscription based vendors to adopt the Risk-Free Guarantee, which states that customers:
1) Pay for what's important
2) Pay only for what they are using
3) Get an automatic price reduction if usage drops
4) Have full control over usage and price increases
Lucid Meetings wants the message to be very clear: they're committed to their customers, and they're working hard to help them succeed. If they can't do that, their customers won't have to pay for their services.
More information:
http://www.lucidmeetings.com/pricing
http://blog.lucidmeetings.com/blog/risk-free-pricing-search-perfect-pricing-model
About Lucid Meetings
Lucid Meetings helps groups pursue their goals through online meetings that are more productive, more efficient, and more rewarding. We combine collaboration and web conferencing software to support professional meeting preparation, a collaborative in-meeting experience, and effortless follow-through on meeting results. For more information, please visit our website at http://www.lucidmeetings.com/.