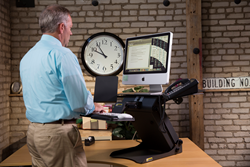 Purpose of the partnership is to help strengthen and expand America's physical health and wellness
Burnsville MN (PRWEB) July 29, 2015
HealthPostures (https://healthpostures.com), a sit stand solutions manufacturer, announces that it has entered into a partnership with 247Ergo, an ergonomics specialty firm. Purpose of the partnership is to help strengthen and expand America's physical health and wellness. Ergonomics projects that the companies undertake could improve worker mobility, functionality and fitness levels.
Executives at HealthPostures and 247Ergo know that simply spending more money on healthcare will not make American's healthier as evidenced in a US National Research Council (NRC) and the Institute of Medicine (IOM) report. As shared in New Scientist, the report found that "Americans die younger and experience more injury and illness than people in other rich nations, despite spending almost twice as much per person on healthcare."
HealthPostures has been developing and manufacturing sit stand solutions since 1996, for nearly 20 years. Its top ergonomics products include the 6100 TaskMate Executive, 6300 TaskMate Go, 6400 TaskMate EZ and the 5050 StanceMove EXT. The 5050 StanceMove EXT offers back and leg support, replacing a less flexible traditional work chair. TaskMate products are designed with adjustable monitor and keyboard trays. In addition to supporting the wrists, neck and back, the products enhance mobility.
"Our bodies are made to move," HealthPostures executives say. The executives continue by sharing that the right workplace solutions "help prevent and alleviate pain associated with sitting at work." Clients who have used HealthPostures' products have enjoyed reduced or eliminated musculoskeletal pain and increased energy and productivity.
Jim Tierinni, 247Ergo President, and his team will sell HealthPostures' workstations, such as the TaskMate EZ 6400, TaskMate Executive, TaskMate Go 6300 and the Surface TaskMate. The firm supplies office solutions to organizations around the world. Company president, Jim Tierinni, says that, "Our goal is to make your work environment healthier and more productive."
Industrial, healthcare, call center and corporate work environments are perfect matches for 247Ergo ergonomics designs. Additional ergonomics solutions that 247Ergo sells are monitor arms, chairs and keyboard trays. Top brands that 247Ergo works with include HealthPostures, Humanscale, 3M, Contour and Adesso. Health risks that 247Ergo and HealthPostures' designs reduce are migraine headaches, damaged tendons and ligaments, lower back pain and Carpal Tunnel Syndrome.
About HealthPostures
HealthPostures LLC (https://healthpostures.com) specializes in the design, development and manufacturing of workplace safety ergonomics products and equipment. For nearly 20 years, the company has built the equipment that is helping people to stay healthy while they work. The firm has developed pioneering ergonomic sit stand solutions since 1996. A key mission of HealthPostures' is to "strive to provide quality products that will help transform your sedentary life so you have a healthy way to work." Office solutions sit stand products Health Postures designs and manufactures include dual monitor sit stand work stations, adjustable mouse stands, dual monitor arm accessories, Stance move seat extensions, industrial surface Taskmates and Stance Move chairs.
Contact:
HealthPostures LLC
14310 Ewing Avenue South, Suite 100
Burnsville, MN 55306
800-277-1841
https://healthpostures.com
About 247Ergo
247Ergo stocks and sells ergonomics equipment for individuals as well as small, midsize and large companies. Ergonomics solutions that the firm carries range from foot machines, desk mount systems, advanced keyboard systems, workstations and monitor arms. 247Ergo has been providing personal and workplace solutions since 2004.
Contact:
247Ergo
111 Water Street
New Haven, CT 06511
800-958-6670
http://www.247ergo.com/
Resources:
https://healthpostures.com/
http://www.247ergo.com/
https://www.newscientist.com/article/mg21929250.200-why-is-the-rich-us-in-such-poor-health/