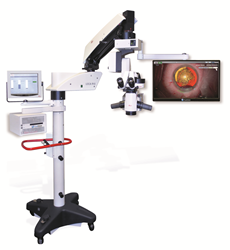 I use TrueGuide, the results of which are so outstanding TrueGuide is now the standard of care in my practice. ~ Jonathan Solomon, MD
SANTA BARBARA, CA (PRWEB) July 29, 2015
TrueVision 3D Surgical, the leader in heads-up surgery™ and surgical applications, announced today Silver Sponsorship affiliation at the prestigious American-European Congress of Ophthalmic Surgery (AECOS), July 30 – August 2.
During the exhibit portion of the event, TrueVision will showcase its patented computer guidance application, TrueGuide®. Designed to improve outcomes during cataract surgery and promote surgeon comfort, TrueGuide uses intelligent data from its pre-surgical planning software to project Toric IOL and incision guidance templates onto the live surgical field.
A cornerstone of the Digital Microscope Platform, the next generation TrueGuide application includes multiple innovations that improve surgical workflow, expand microscope integration and extend functionality for both the surgeon and patient.
In addition to Silver Sponsorship, TrueVision is the sole sponsor of the AECOS event, "3D Afternoon at the Movies" that features top ophthalmic surgeons' work shown in high-definition 3D.
About AECOS
AECOS is a prestigious society dedicated to advancing vision care and improving patients' quality of life through Innovation, Education and Advocacy.
About TrueVision® 3D Surgical
TrueVision® 3D Surgical is the leader in digital 3D heads-up surgery with integrated applications for microsurgery. The Santa Barbara, California-based company founded in 2007 has developed and patented intelligent a real-time Digital Microscope Platform for numerous medical verticals including ophthalmology, neurosurgery, ENT, orthopedics and more.
Visit http://www.truevisionsys.com for more information.