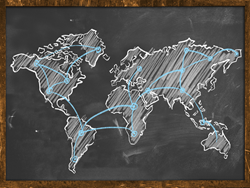 "This achievement showcases our deep knowledge of Microsoft products and complements our Microsoft Gold ERP Competency for Microsoft Dynamics AX." - John Pence, President of Sunrise Technologies
Winston-Salem, NC (PRWEB) July 30, 2015
Sunrise Technologies, a worldwide provider of ERP, BI, and supply chain consulting services, announced today that it has earned a Microsoft Cloud Platform Competency by meeting Microsoft Azure customer reference, technical assessment, and performance requirements.
With more than 57% of Fortune 500 companies using Microsoft Azure as a cloud platform, and an average of 1,000 more customers signing up every day, there is clearly a growing demand for infrastructure as a service.
Microsoft Azure helps companies manage and respond to changes quickly with the ability to rapidly deploy new application environments. Azure helps companies run more cost-effectively by allowing them to pay for only what they use, which eliminates the cost of new hardware and frees up budget for other business needs. Customers also gain enterprise-level security with the same data protection and datacenter security that many of the world's largest organizations receive today.
"This achievement showcases our deep knowledge of Microsoft products and complements our Microsoft Gold ERP Competency for Microsoft Dynamics AX. We plan to accelerate our customers' success by enabling them the flexibility to choose a deployment path that works for them, whether that's on-premise, in the cloud, or a hybrid combination," said John Pence, Founder and President of Sunrise Technologies.
Sunrise Technologies can help make the cloud a seamless part of an IT organization and Microsoft Azure supports various software solutions including Microsoft Dynamics AX, Windows Server, SQL Server and SharePoint.
About Sunrise Technologies
Since 1994, Sunrise Technologies has delivered game-changing ERP and business intelligence solutions at a tremendous value, in partnership with Microsoft and MicroStrategy. With one of the largest apparel, footwear, and furnishing customer bases in the world, Sunrise is a global systems integrator operating out of North America, Europe and Asia. For more information on this Microsoft Gold Certified Partner and US Distribution Partner of the Year, please visit http://sunriseconsult.com or call 336.722.6741.