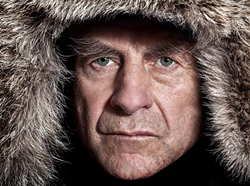 Sir Ranulph Fiennes "One of the world's top ten speakers" Daily Telegraph
Bibendum, 81 Fulham Road, SW3 6RD, London (PRWEB UK) 3 August 2015
Each of the illustrious chefs will create three sublime courses which will be paired with a curated selection of wines from the cellar of Matthew Jukes.
These are exclusive events for a limited number of guests and priced at and all inclusive £395 per person including VAT from Quintessentially Wine.
The first in this Quintessentially Wine Talks series is on the 16th of October 2015, featuring Sir Ranulph Fiennes at multi-award winning Bibendum restaurant in London, and featuring Tales of Great Adventure, Peter Robinson's Amazing Food, and Wine by Matthew Jukes.
The Guinness Book of Records of 1984 described Sir Ranulph as the "World's Greatest Living Explorer". He has led 22 major expeditions to remote parts of the world & was part of the first exhibition to reach both Poles. Sir Ranulph completed the 7X7X7 challenge: completing 7 marathons on 7 continents in 7 days in 2003, only months after recovering from a double heart bypass. In 2007 successfully scaled the North Face of the Eiger, and separately successfully reaching the summit of Everest, raising £6.3m in the process. This year (2015), aged 71, he completed the Marathon Des Sables, the toughest footrace on earth.
Sir Ranulph Fiennes will mix and mingle with guests at the pre-dinner drinks reception. Deliver a inspirational talk focusing on highlights from his career, looking at being the best and taking on challenges. There will be a Q&A opportunity for guests as well.
Bibendum Restaurant is named after Michelin's portly mascot Monsieur Bibendum who, in turn, takes his name from the latin phrase Nunc est Bibendum, 'Now is the time to drink'. It was the winner of 'The most consistently excellent Restaurant' at the Tatler Louis Roederer Awards. Will provide three food courses, gold medal quality fine wine, coffee, water, and service all in the ticket price.
Founder of Quintessentially Wine, Matthew Jukes is also regarded as one of the world's leading wine experts, Matthew writes a weekly column for MoneyWeek and the Daily Mail. With over 9 million readers each weekend, Matthew has the most keenly followed wine column in the UK. The all French wines he has chosen for the evening are:
NV Ayala, Extra Age, Aÿ, Champagne (A Bollinger Family Champagne)
2014 Domaine Ott, Clos Mireille Rosé, Côtes de Provence
2013 Chablis, Grand Cru Bougros, Maison Dampt, Burgundy
2007 Chateau Grand-Puy-Lacoste, 5ème Cru, Pauillac, Bordeaux
-ENDS-
Note to Editors
Quintessentially Wine is the wine club within the Quintessentially Group. Is focused on luxury wine wish fulfilment, wine management, and providing the ultimate wine sourcing service. Offers the convenience of sourcing last-minute wine gifts and elusive hard to find wines, advice on saving money with cellar management, as well as exclusive access to the world's greatest wine travel and dinners with wine makers. Quintessentially Wine is the preferred service chosen by those who are keen to enjoy the very best the wine world has to offer.
The Quintessentially Group is a unique curation of businesses, looking after every facet of luxury lifestyle. Established 14 years ago with our Lifestyle management concierge business, we now have offices in over 67 cities around the world. This gives us unique insight into the luxury market, key trends and influences, passions and purchases, enabling us to create over 22 specialist businesses.
Sir Ranulph Fiennes Profile:
Born UK 1944, just after his father was killed in the war.
Brought up in South Africa
Back UK, Eton College
Failed A Levels
Joined Royal Scots Greys (Tanks). Cold War
Joined SAS 1965/1966. Youngest Captain in the British Army
Fought Marxist Terrorists 1968-1970 and received the Sultans Bravery Medal from HM the Queen
1984-1990 Vice President of PR and Adviser for Western Europe to Chairman of Occidental Petroleum Corp.
Married childhood sweetheart Ginnie Pepper in 1970 and together they launched a series of record breaking expeditions that kept them ahead of their international rivals for three decades.
Some of these huge challenges include:
First to reach both Poles (with Charles Burton).
First to cross Antarctic and Arctic Ocean (with Charles Burton).
First to circumnavigate the world along its polar axis (with Charles Burton). 'This 3 year, 52 000 mile odyssey took intricate planning, 1900 sponsors, a 52 person team to handle, complex communications, meticulous planning and iron determination mixed with flexibility. The circumnavigation has never been successfully repeated.
Led the first hovercraft expedition up the longest river in the world (the Nile) in 1968/1969.
Achieved world record for unsupported northerly polar travel in 1990.
Led the team that discovered the lost city of Ubar on the Yemeni border in 1992 (after seven previous search expeditions over a 26 year period).
Achieved world first in 1992/1993 by completing the first unsupported crossing of the Antarctic Continent (with Mike Stroud). This was the longest unsupported polar journey in history.
In 2003, only 3½ months after a massive heart attack, 3 day coma and double bypass, Ranulph Fiennes (with Mike Stroud) achieved the first 7x7x7 (Seven marathons in seven consecutive days on all seven continents).
March 2005, climbed Everest (Tibet-side) to within 300m of summit raising £2 million for the British Heart Foundations new research MRI scanner.
March 2007, Sir Ranulph climbed the North Face of the Eiger (with Kenton Cool and Ian Parnell) and raised £1.8 million for Marie Curie Cancer Care's Delivering Choice Programme
Winner of ITV Greatest Britons 2007 Sport Award (beating the 2 other main nominees Lewis Hamilton and Joe Calzaghe)
May 2008, climbed Everest (Nepal-side) to within 400m from summit raising £2.5m for Marie Curie Cancer Care Delivering Choice Programme
Marie Curie 2008 'Above and Beyond Award' Winner
Successfully summitted Everest May 2009 with Thundu Sherpa making a total for Marie Curie of over £6.2m. The oldest Briton ever to summit.
AWARDS
French Parachute Wings 1968
Dhofar Campaign Medal 1968
Sultan of Oman's Bravery Medal 1970
Man of the Year 1982
Livingstone Gold Medal Royal Scottish Geographical Soc 1983
Gold Medal NY Explorers Club 1984
Described by Guiness Book of Records as "The World's Greatest Living Explorer" 1984
Fndr's Medal RGS 1984
The Polar Medal 1984 with Bar 1995 by HM the Queen (his wife Ginnie was first female recipient)
ITV Award for Event of the Decade 1990
Explorers Club (Br Chapter) Millennium Award for Navigation 2000
Oldie of the Year Award 2004
Hon DSc Loughborough Univ
Hon Dr: UCE 1995, Univ of Portsmouth 2000, Univ of Glasgow 2002, Univ of Sheffield 2005. Abertay University (Dundee) 2007, Plymouth University 2011
Hon. Fellowship University of Glamorgan 2012
Hon. Director of Science University of Chester 2014
Matthew Jukes Profile:
Matthew was made Honorary Australian of the Year in the UK at the 2012 Australia Day Foundation Gala dinner. He joins an eminent list of previously appointed Honorary Australians, including Lord Carrington, Sir Robert Wilson, Baroness Greenfield and Sir David Attenborough.
In a wine trade survey (Harpers), UK retailers were asked which wine writer has the most influence over their customers. The answer was, unanimously, Matthew Jukes.
In another list, compiled by OLN in May 2011, Matthew was voted the most influential wine writer in the UK. In March 2013 Matthew was given the Journalism Award at the Portuguese Wine Awards. In July 2013 Matthew was awarded the Communicator of the Year award by the English Wine Producers Association. With over 9 million Daily Mail readers a week, Matthew has the most keenly followed wine column in the UK. He also writes a weekly piece for MoneyWeek.
He won the highly prestigious International Wine and Spirit Competition's Trophy for Wine Communicator of the Year in 2002 and he has been the wine buyer for Bibendum Restaurant & Oyster Bar in London for 25 years. He is the founder and buyer for the exclusive, private wine club Quintessentially Wine worldwide.
All six editions of The Wine List, his annual wine guide, were UK bestsellers. In addition, The Wine Book is in its eleventh year of publication. He created and co-authored Taste Food & Wine, an annual wine guide published in Australia and New Zealand, with Brisbane-based wine writer Tyson Stelzer. Taste was a number one bestseller in its inaugural year of publication and it won the Australian Food Media Award for Best Food and Writing. He has recently published his fourteenth book, 100 Most Iconic Wine Estates, published by Quintessentially (it has recently been reprinted and is available in Kindle form). He describes this as the book he has wanted to write for twenty-five years. He lectures and judges all over the world.
In November 2011 Matthew moderated the Australian version of the Stonier International Pinot Noir Tasting with Huon Hooke and James Halliday on the panel. He has previously been a panellist and a guest speaker at this event. He was also a panellist at the inaugural SIPNOT event in London in January 2011 and again in 2012. He will be the international judge at both the Royal Adelaide Wine Show and National (Canberra) Wine Show in 2015 and 2017 respectively.
Matthew is the creator of a handful of ground-breaking initiatives – he invented his One Day Wine School over a decade ago. He also has a number of annual wine releases including the 100 Best Australian Wines (the twelfth anniversary 100 Best List was launched in May 2015). The 100 Best Australian Wines Roadshow 2015/16 kicks off in September 2015 with twelve dates planned around the UK. The Great Australian Red competition is the quest to find the finest red blends that 'define Australia'. TGAR is an unique Shiraz / Cabernet Sauvignon tasting (the ninth competition was held in November 2014 in Adelaide, in collaboration with Tyson Stelzer) and The Great New Zealand Pinot Noir Classification (the seventh edition was published in early 2014, again with Tyson Stelzer) is the first New World classification of its kind.
Matthew's thoughts, recommendations and tastings notes are followed very closely by the wine world at large.
Touch Wine, Wine Rules & Touch Vinnie-Yard
Matthew is also the Patron and Founder of Touch Wine (wine tasting events) which he created in 2005 in order to raise money for the Hutt St Centre in Adelaide. He started Wine Rules in 2011 to raise much-needed funds for St Mary's House of Welcome in Brunswick Street, Melbourne, Victoria. In November 2012 the Touch Vinnie-Yard Wine Dinner concept was launched in Canberra in order to raise money for the St Vincent de Paul Society.