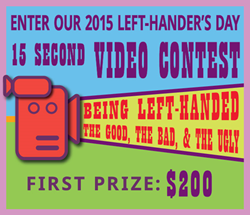 "I May be Left-Handed , but I'm Always Right", anonymous Lefty.
San Francisco, CA (PRWEB) July 29, 2015
Lefty's the Left-Hand Store announces a 15 second Instagram video contest for International Left-Hander's Day: Being Left-Handed - the Good, the Bad and the Ugly. Winners will receive a first prize of $200 cash, and 2nd and 3rd prizes of gift certificates to Lefty's. Videos, no more than 15 seconds in length, can be posted on Lefty's [Instagram, Facebook (Lefty's San Francisco) or Twitter (#lefthandstore) pages by midnight August 11, 2015.
Lefty's will announce the winners on International Left-Hander's Day, August 13. At Lefty's flagship store on Pier 39 there will be games and contests from 10 - 4, and will host a big left-handed party.
Left-handers make up 10 - 15% of the population, yet they must adapt in hundreds of ways to a right-handed world. From classroom desks with the writing surface on the right side and right-handed scissors, to spiral notebooks that have to be turned upside down, schools and school supplies present major obstacles to little lefties from an early age. On the home front, simple cooking tools like can openers and measuring cups often simply don't work.
Centuries of prejudice against lefties, which in some places persist to this day, have embedded negative connotations about being left-handed in almost every language. Words like sinister and gauche literally mean left-handed in Italian and French.
Yet left-handers have a remarkable history of accomplishment - leaders like 5 of the last 7 U. S. Presidents to Alexander the Great and Napoleon, artists and musicians from Leonardo da Vinci to Jimi Hendrix, entertainers like Oprah Winfrey and Brad Pitt, and technology leaders like Steve Jobs and Bill Gates, lefties have defied this prejudice and dominated their fields.
International Left-Hander's Day is a moment for lefty pride, in which this largely silent minority can celebrate their differences. Lefties can share their struggles and strategies.
Being Left-Handed - the Good, the Bad and the Ugly, a 15 second video contest posted on Lefty's social media sites, will provide a way for lefties to portray their own versions of this experience for other lefties to learn from and laugh about. The staff at Lefty's the Left Hand Store will select the winners, who will be announced on August 13, International Left-Hander's Day.
Visit Lefty's online at http://www.thelefthandstore.com, or in person at Pier 39, San Francisco, or in Orlando, FL, at Downtown Disney, Walt Disney World Resorts or Old Town Mall at Kissimmee, FL.