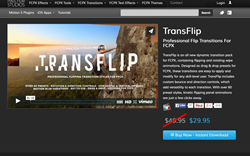 This is a great transition that is perfect for all levels of users.
Aliso Viejo, CA (PRWEB) July 29, 2015
TransFlip is an all new dynamic transition pack for FCPX, containing flipping and rotating wipe animations. Designed as drag & drop presets for FCPX, these transitions are easy to apply and modify for any skill-level user. TransFlip includes custom bounce and direction controls, which add versatility to each transition. With over 60 preset styles, kinetic flipping panel animations are just a few clicks away.
TransFlip contains over over 60 preset animations that split up each shot and flip it into the next. Choose presets containing up to eight panels, creating unique and dynamic movements that will excite viewers. Horizontal and vertical paneled divisions are all included, giving users multiple options to select from and apply between clips.
TransFlip is a transition pack that FCPX film makers simply apply between the desired clips, and drag to the appropriate length. Custom controls allow the kinetic bounce animations to be very smooth and slow, as well as fast and dynamic. Divided panels in each preset can rotate forwards and backwards, left to right, and top to bottom with simple checkbox adjustments.
TransFlip includes non-motion blurred options for quick render times and motion blurred options for added realism. Horizontal and vertical planel divisions are all included for added versatility, adding more variations to the users library. All the individual controls within each preset allow users to change the movement so no transition will look identical to the next.
TransFlip is a unique set of transitions designed for Final Cut Pro X. Editors simply select the desired preset and drag it to the timeline and apply it between clips. Drag the transition out to the appropriate length for the correct timing, and export. Professional flipping styled transitions are just a few mouse clicks away, saving film makers valuable time.
Established in 2006, Aliso Viejo, California-based Pixel Film Studios is an innovative developer of visual effects tools for the post-production and broadcast community. Their products are integrated with popular non-linear editing and compositing products from Apple FCPX. All Apple, the Apple logo, Mac OS X, and Macintosh are registered trademarks of Apple Inc. in the U.S. and/or other countries. All other trademarks and trade names are the property of their respective owners.