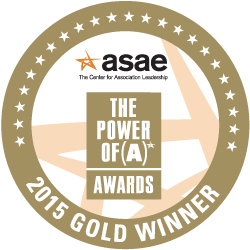 Rolling Meadows, Ill. (PRWEB) July 28, 2015
A skin cancer screening program offered by the American Society for Dermatologic Surgery has been commended with a national 2015 Power of A award for "helping to make the world a better place."
The Choose Skin Health program has been named a Power of A Gold Award winner by the American Society of Association Executives. Power of A recognizes organizations annually that "distinguish themselves with innovative, effective and broad-reaching programs and activities that positively impact America and the world."
Choose Skin Health, now in its sixth year, is a joint effort between ASDS and Neutrogena wherein ASDS members volunteer to provide free skin cancer screenings and work to educate people about the importance of early detection. Neutrogena offers members a variety of supplies at no cost to use for the screenings, including forms, brochures, sunscreen samples and marketing materials.
One in 10 people attending the free screenings is diagnosed with skin cancer. At the end of 2014, 14,854 free screenings had been provided through the program.
Choose Skin Health has tapped into celebrity star power to draw attention to the program, with luminaries such as Jennifer Garner, Hayden Panettiere, Gabrielle Union and Sandra Echeverria (in a Spanish PSA) participating in outreach messages to the public. Those print ads have been featured in major national magazines each year.
"Congratulations to ASDS for helping to make the world a better place," said Hugh Cannon, CAE, chair of the Power of A Awards Judging Committee. "This program exemplifies how associations make a difference every day – not just to the industry or profession they represent, but to society at large."
Choose Skin Health benefits Americans spanning all geographic regions and demographics. The ASDS website, asds.net, makes it simple for users from anywhere in the country to find a participating board-certified dermatologist and to research dates and times of free screenings.
"Our goals are to increase the number of community screenings and highlight the importance of sun protection and regular skin examinations," said ASDS President George J. Hruza, M.D., M.B.A. "This program has the power to save lives and promote lifelong habits that lead to healthy skin."
With skin cancer rates on the rise, Choose Skin Health becomes an increasingly important program, said Ian Maher, M.D., chair of the ASDS Public Service Work Group.
"We have a skin cancer epidemic in our country, and prevention is the only way we're going to beat this epidemic," Maher said.
The Power of A awards program is conducted annually to increase awareness about issues that impact associations and to share the wealth of knowledge and resources available to the association community for policymakers and other audiences.
About ASDS
The American Society for Dermatologic Surgery is the largest specialty organization exclusively representing dermatologic surgeons who have unique training and experience to treat the health, function and beauty of your skin. ASDS members are pioneers in the field. Many are involved in the clinical studies that bring popular treatments to revitalize skin and fill and diminish wrinkles to the forefront. Their work has helped create and enhance many of the devices that remove blemishes, hair and fat, and tighten skin. Dermatologic surgeons also are experts in skin cancer prevention, detection and treatment. As the incidence of skin cancer rises, dermatologic surgeons are committed to taking steps to minimize the life-threatening effects of this disease. For more information, visit asds.net.
Follow us:
Website: asds.net
Follow ASDS on Twitter: twitter.com/ASDSSkinExperts
Become a fan of ASDS on Facebook: facebook.com/ASDSSkinExperts
Locate a dermatologic surgeon in your area: asds.net/findadermatologist.aspx
Contact:
Jay Schwab
Communications Manager
American Society for Dermatologic Surgery
jschwab(at)asds(dot)net
847-956-9143