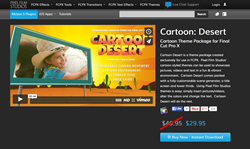 These is a great group of themes for FCPX.
Aliso Viejo, CA (PRWEB) August 25, 2015
Pixel Film Studios, FCPX plugin developer, announced the release of three cartoon theme templates for Final Cut Pro X. The theme templates include Cartoon Desert, Cartoon City and Cartoon Space.
The FCPX Templates are theme packages created exclusively for use in FCPX. Pixel Film Studios' cartoon styled themes can be used to showcase pictures, videos and text in a fun and vibrant environment. The themes come with fully customizable scene generators, a title screen and lower thirds.
Cartoon Desert features an environment shot with simplified controls so that any user can create camera angles within Final Cut Pro X. Any camera angle can be achieved using Cartoon Desert's advanced camera tools.
Pixel Film Studios theme packages are completely customizable in FCPX. With the swab of the hue adjustment dial and quick color wheel adjustments for frames, video editors can achieve an entirely new look or feel. Change position, scale and depth of the text sign and change the layout of environment elements. Get creative with Pixel Film Studios' themes.
Cartoon Space is extremely easy to use in Final Cut Pro X. Simply insert the generator into the FCPX timeline. Next, insert personal pictures or videos into the drop zones provided. Then, edit the camera start and end positions using simple, intuitive controls. Lastly, alter the text and change the style using the controls provided in the inspector window. Cartoon Space will do the rest.
Established in 2006, Aliso Viejo, California-based Pixel Film Studios is an innovative developer of visual effects tools for the post-production and broadcast community. Their products are integrated with popular non-linear editing and compositing products from Apple FCPX. Apple, the Apple logo, Mac OS X, and Macintosh are registered trademarks of Apple Inc. in the U.S. and/or other countries. All other trademarks and trade names are the property of their respective owners.