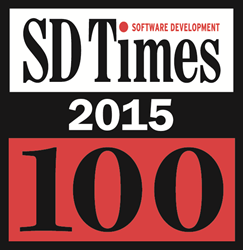 SD Times' recognition further validates that our vision and relentless innovation is making a difference to DevOps teams around the world.
Boston, MA (PRWEB) July 29, 2015
Digital Performance software company Dynatrace, today announced that SD Times Magazine has named the company to its annual SD Times 100 list as a leader and innovator in the "Quality Assurance, Security and Performance" category. This award is more validation of Dynatrace's growing recognition as the most trusted digital performance platform with app engineering and DevOps teams.
Tweet this: #2015sdtimes100 recognizes @Dynatrace for innovation and leadership in #DigitalPerformance #APM http://ow.ly/Q7Wij
The SD Times 100 recognizes the software development industry's leaders, innovators and influencers — the "best of the best" who significantly impact the market direction that developers follow.
"The environment that software engineers and developers need to design for has never been more complex. With the explosion of mobile and the intermingling of all digital channels in tandem with ever increasing customer expectations, the digital landscape becomes more difficult to navigate every day," said David Rubinstein, editor-in-chief of BZ Media's SD Times. "Thanks to companies like Dynatrace, developers and IT teams are equipped with the platform they need to meet these challenges head on and deliver business value to their organizations."
Dynatrace's solutions enable developers, application engineers and DevOps teams to build better software faster by providing them with fact-based answers to application performance issues in real-time. The result is a new way for development, quality assurance, test and production teams to collaborate, and gain confidence in the quality and performance of their software delivery, and accelerate release cycles by 30x or more.
"We are honored to be recognized by SD Times for our vision, innovation and industry leadership," said John Van Siclen, CEO at Dynatrace. "Dev and Ops teams are faced with two major challenges as they migrate to the cloud and micro-container architectures: shrinking release cycles and exploding operational complexity. While most APM solutions are centered on older monitoring paradigms, Dynatrace solutions are precisely designed to address those new challenges. SD Times' recognition further validates that our vision and relentless innovation is making a difference to DevOps teams around the world. "
The recognition by SD Times follows on the heels of Dynatrace being ranked as #1 in worldwide APM market share by Gartner, and the #1 provider of web performance monitoring solutions for internet retailers.
About Dynatrace
Dynatrace is the innovator behind the industry's premier Digital Performance Platform, making real-time information about digital performance visible and actionable for everyone across business and IT. We help customers of all sizes see their applications and digital channels through the lens of their end users. More than 7,500 organizations use these insights to master complexity, gain operational agility and grow revenue by delivering amazing customer experiences.
Follow Dynatrace on:

For Sales and Marketing Information
Dynatrace, 404 Wyman St., Suite 500, Waltham, MA 02451, 781-530-1000
Press Contacts
Kayla Siefker, Senior Global Public Relations Manager, Dynatrace, 313-227-3092, kayla(dot)siefker(at)dynatrace(dot)com
Jackie Lucas, Warner Communications, 978-255-1159, Jackie(at)warnerpr(dot)com