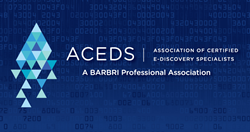 Miami, Fla. (PRWEB) July 29, 2015
The Association of Certified E-Discovery Specialists (ACEDS), a BARBRI Professional Association, today announced the formation of member chapters in six key markets across the nation: Washington, D.C., Detroit, Jacksonville, Fla., Boston, New York City, and Phoenix.
These new member chapters bring the power and resources of the country's leading e-discovery association to the local level. ACEDS is committed to building a nationwide community of e-discovery specialists for the exchange of ideas, guidance, training and best practices. The newly formed local chapters are a key component to those efforts.
Chapters are led at the local level by a board of officers, and promote e-discovery competence and professional development for colleagues at local businesses, law offices, corporations, government organizations and other entities that deal with the pressing challenges posed by electronically stored information. They promote education, networking and the validity of certification within the local e-discovery community so that practitioners can share knowledge and experience to move the profession forward. Chapter members can take advantage of local and national events, have exclusive access to resources and information, and participate in members-only initiatives in ACEDS.
"The field of e-discovery continues to grow and change at unprecedented levels, which in turn challenges professionals to stay abreast with best practices and other aspects of the field," says Susan Kavanagh, director of client and member services, BARBRI Professional Associations. "Our ACEDS chapters foster growth and professional development, and are designed to address e-discovery needs and challenges for members at a local level. We are very excited at the early success they have had both in delivering outstanding educational content and driving membership. We look forward to the formation of other chapters across the country."
More information is available on the ACEDS membership site.
About ACEDS and the CEDS Certification
The ACEDS Professional Association, part of leading legal education provider, BARBRI, is a membership association committed to promoting and verifying e-discovery skills and competence through training, education, and certification to organizations and individuals in order to reduce the costs and risks associated with e-discovery, and realize the advantages of performing it effectively. ACEDS awards the Certified E-Discovery Specialist (CEDS) credential, which is held by practitioners at Am Law 200 firms, government agencies, including the U.S. Securities and Exchange Commission and U.S. Justice Department, and some of the largest corporations in the world.
CEDS responds to the need to verify skill and knowledge in an increasingly high-stakes, high-risk field. It facilitates sound hiring practices, has the potential to advance careers and gives a competitive advantage both to the individuals who earn it and to their employers. By becoming CEDS certified, professionals show employers they are equipped to tackle a wide range of e-discovery challenges — and organizations show their clients and partners they are committed to performing e-discovery better, more cost-effectively and with less risk. The credential is increasingly identified by hiring managers as preferred or required in job postings. Visit ACEDS.org to learn more.