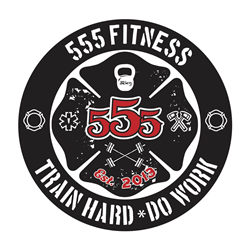 Our goal is to reach as many of our fellow brothers and sisters to reduce the number of cardiac-related Line of Duty Deaths by engaging them in physical fitness and health
Rhinebeck, NY (PRWEB) July 29, 2015
Topical BioMedics, Inc., announces it has partnered with 555 Fitness as a sponsor, with its Topricin® Pain Relief and Healing Cream designated as the nonprofit's natural pain reliever of choice.
555 Fitness is a firefighter-founded web-based organization that is actively addressing Line of Duty Deaths (LODD) and the high rate of pain and injuries firefighters are suffering from due to the demands of their dangerous profession. The organization posts a series of free daily workouts geared to the rigors of the firefighting profession to more than 40,000 followers around the world on social media. To assure that firefighters have the equipment needed at the firehouse they offer the "Strength is Our Foundation" annual grant, which awards workout equipment valued at over $3,000 to selected fire station applicants, along with coaching on proper use of the equipment. The mission of 555 Fitness is to reduce cardiac-related line of duty deaths by improving firefighter fitness.
"Firefighting is a fast, demanding, dangerous, and unforgiving job, says Robert "Pip" Piparo, 555 Fitness vice president, lieutenant with the City of New Brunswick Fire Department, New Brunswick, NJ, and paramedic with Raritan Bay Medical Center, Perth Amboy, NJ. "Tragically, over 50% of firefighter fatalities can be attributed to cardiac-related events on the job. That's why we founded 555 Fitness, in support of the people who put their lives on the line every day."
"Our goal is to reach as many of our fellow brothers and sisters to reduce the number of cardiac-related Line of Duty Deaths by engaging them in physical fitness and health," says Ewa Hlebowicz, 555 Fitness Grant Coordinator, Career Firefighter/Paramedic, and fitness trainer in Rochester, NY. "We strive to keep the workouts new and interesting, and contribute to firefighters being able to do their jobs more effectively to live a longer, healthier life."
In support of 555 Fitness' initiatives, Topical BioMedics is using its flagship product Topricin Pain Relief and Healing Cream—a favorite with first responders—as a funding mechanism. When firefighters, police, EMTs, and other first responders buy any Topricin product and use Promo Code 555Fit, they get a 30% discount on its line of healing creams and the new product extension MyPainAway™ Powered by Topricin formulas, with10% of the sales donated to 555 Fitness. The company will also provide product samples at firefighter industry expos and events, and offer pain management webinars and workshops that address the profession's physical demands.
"It takes a special person to be a firefighter—someone willing to put their life on the line to save someone they never met before," says Lou Paradise, president and chief of research, Topical BioMedics, Rhinebeck, NY. "As public safety athletes, being at optimum physical readiness is critical for the lives they will save, including their own.
"A fitter firefighter reduces line of duty deaths, and we are honored to partner with 555 Fitness in their important work. Our Topricin formulas offer numerous benefits to those in the firefighting profession: more productive workouts, faster recover, increased endurance and stamina, as well as reduced injury risk and repairs of micro-tears in connective tissue. Topricin also helps reduce the need and dependency on all categories of pain pills, including prescription opioids. On and off duty, it will help keep firefighters ready for action."
For more information visit http://www.555fitness.com and http://www.topricin.com.
ABOUT 555 FITNESS
555 Fitness is a firefighter-founded charity that posts free daily workouts internationally to more than 40,000 followers on social media. It provides daily firefighter workouts Monday thru Saturday, with four different firefighter fitness levels and programming that consists of a combination of an active warm-up, a rowing or running "Workout of the Day" (WOD), a strength component, a longer interval WOD, a shorter metabolic conditioning workout, and an honor WOD dedicated to honoring members of New York City Fire Department 343 who lost their lives in the line of duty on September 11, 2001, at the World Trade Center attack. Its mission is to reduce cardiac-related line of duty deaths by improving firefighter fitness.
555 Fitness tailors its workouts to the rigors of the firefighting profession. It has identified over 70 movements—not including the lifts demonstrated in their programming—broken down by body parts. Its mission is to reduce cardiac-related Line of Duty deaths by improving firefighter fitness.
The nonprofit also offers its "Strength is Our Foundation" annual grant, which provides workout equipment to fire stations across the country as well as training on proper use of the equipment.
The grant program is open to volunteer, combination, and career departments.
In addition, 555 Fitness has an online store that offers apparel and gear, with proceeds of some of the items funding its grant program.
Along with Topical BioMedics, (Topricin) Inc., other 555 Fitness sponsors and supporters include firefighter toolbox.com, JekyllHyde Apparel, Fork and Hose Co., WOD Addiction, and FitAid. The 555 Fitness motto is: "Train Hard. Do Work. Stay Fit. Be Ready."
For more information visit http://www.555fitness.com.
ABOUT TOPICAL BIOMEDICS
21 years in business and a Certified B Corporation, Topical BioMedics is a research and development leader in topical patented natural biomedicines for pain relief. The company's flagship product, Topricin® Pain Relief and Healing Cream, was introduced in 1994 and is now a leading natural therapeutic brand. A combination natural biomedicine formula, Topricin has been awarded a patent for the treatment of pain associated with fibromyalgia and neuropathy.
Topricin products are mandatory treatment protocol at world renowned medical centers.
The Topricin family of natural healing products also includes Topricin Foot Therapy Cream, specially formulated to treat painful foot and ankle issues and conditions, and Topricin for Children, which received the Parent Tested Parent Approved Seal of Approval (with 5% of sales are donated to pediatric cancer foundations). The company recently launched the MyPainAway™ Powered by Topricin line of products. New formulas include MyPainAway Fibro Cream for fibromyalgia sufferers, and MyPainAway After-Burn Cream to address sunburn, windburn, and other minor burns, chaffing, and blisters, as well as helping to reduce/improve the appears of scars.
Made in the U.S.A., all Topricin products are federally-regulated over-the-counter medicines with no known side effects, no parabens, petroleum, or other harsh chemicals, no grease, and no odor.
For over 21 years, the company has assisted hundreds of thousands of people suffering with pain and those addicted to painkillers to get off of these, and achieve fully restored and robust healthy living. Unfortunately, millions of people continue to suffer in pain, and more people are finding the benefits of Topricin so to reduce or eliminate the hazardous side effects of OTC chemical pain pills and Rx opioid painkillers—while reversing the epidemic that has turned the lives of American families upside down as it rips at the very fabric of our country.
Because of the company's experience in addressing these challenges, it has launched its "Get Relief, Give Relief" initiative: for every Topricin product purchased directly from the company, it will donate a tube of Topricin to a free pain clinic or charitable organization. To participate in "Get Relief, Give Relief," order from http://www.topricin.com or call 1-800-LES-PAIN (537-7246).
Topical BioMedics also offers TopTrack, a new app for on-the-go pain tracking and monitoring. TopTrack is available free of charge for iPad via the App Store, and will roll out on additional devices in the coming months. http://bit.ly/1rIQD89. This app allows the person in pain to record
their activity/pain levels daily and experience how the application of Topricin and applying healthy lifestyle tips offered impacts their progress, including such factors as better sleep and reducing the need for pain pills. At the end of the month all the data can be downloaded and shared with their healthcare providers.
Topricin is available in independent pharmacies, natural food and co-op stores nationwide, including Whole Foods, Sprouts, Pharmaca, The Vitamin Shoppe, Fred Meyer, Wegmans, CVS (Foot Care Section), Walgreens (Diabetic Section), and other fine retailers, as well as directly from the company.
For more information visit http://www.topricin.com
###