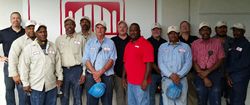 Gate's success and longevity in Oxford is directly related to the skill and dedication of its 148 employees, all striving to provide the highest quality architectural and hollow core concrete products in the SE and Mid-Atlantic regions. -- Travis Fox
Oxford, NC (PRWEB) July 29, 2015
Gate Precast's Oxford, NC, plant recently reached a significant milestone, celebrating 20 years of service to the Southeast and Mid-Atlantic regions. Proof of the plant's success is in its numbers – since opening the facility in June 1995 Gate's Oxford plant has fabricated an incredible 11 million square feet of architectural precast concrete and 18 million square feet of hollow core concrete plank.
Travis Fox, Gate's Vice President and Operations Manager, said "Gate's success and longevity in Oxford is directly related to the skill and dedication of its 148 employees, all striving to provide the highest quality architectural and hollow core concrete products in the Southeast and Mid-Atlantic."
Dean Gwin, Gate's President and COO, agrees. "Gate is proud to have the Oxford plant in its portfolio," Gwin said. "The team there is a class act, and they take pride in everything they do." The Oxford plant thrives on cutting edge product lines such as polished Gatestone and edge-to-edge thermally efficient panels. Additionally, the plant's new hollow core beds are less than a year old and therefore yield a superior product."
Employees that have worked at Oxford for 20 years include: Ellis Blalock, Lawrence Brummell, Curtis Clark, Mike Coats, James Glover, David Glover, Toney Harris, David Owen, Roberto Palacios, Andy Parris, Larry Rainey, Al Robinson, Prentice "Dude" Brooks and Albert Royster.
The Oxford plant is SHARP and PCI (A1, C2) Certified, and is among eight Gate manufacturing facilities that regularly engage in the design, engineering, fabrication, transportation and erection of architectural and structural precast concrete systems. Notable projects produced in North Carolina include: Maria Parham Hospital Addition, Durham County Courthouse, Duke School of Nursing, Cap Trust Tower, Glenlake Office Buildings, Progress Energy Tower, PNC Tower, Extron, Bank of America Stadium Escalators Addition, PPD Office Tower and Cape Fear Community College Union Station.
More About Gate:
Gate Precast Company is a subsidiary of Gate Petroleum Company, a privately-held diversified corporation headquartered in Jacksonville, FL. Gate Precast has become one of the largest and most diversified precast concrete producers in the United States, with eight manufacturing facilities, and is known for its design-assist collaboration with design teams. Annually, the company is recognized as a top subcontractor by Engineering News-Record Magazine and wins Best-in-Class PCI Design Awards for a wide range of projects. For more information, please visit http://www.gateprecast.com.