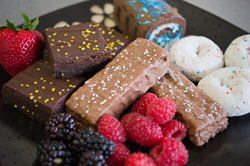 West Haven, CT (PRWEB) July 29, 2015
Watson Inc. is proud to announce the offering of a hands on application lab during the 2015 Prepared Foods' R&D Applications Seminar in Chicago, Illinois. One of the most exciting features of this event is the interactive Application Labs which will feature the use of product samples to more effectively demonstrate an ingredient's functionality or its application in a finished consumer product or model system. The Application Lab sessions are longer and more hands-on, interactive, in-depth, and comprehensive than the traditional sessions.
The title of the application lab is Explore the Magic of Edible Glitter™ - Dream in Color. This is the first such event Watson has offered. It presents a unique opportunity for Research and develop professionals to gain first hand experiencing working with Edible Glitter™. Participants will have the opportunity to incorporate Edible Glitter™ as a decorative topping or inclusion across a wide range of baked goods, savory snacks, dairy products, breakfast cereals, and beverages andsee the many special effects possible with Edible Glitter™, such as color and flavor changes. Edible Glitter™ is a cost saving, healthier alternative to traditional sprinkles, adding no sugar, hydrogenated vegetable oils, or fats. For additional information on the benefits Edible Glitter™ offers for food and beverage manufacturers, visit http://www.watson-inc.com/our-capabilities/film-technology/edible-glitter/the-benefits-of-using-edible-glitter/.
The Edible Glitter™ Hands On Application Lab will take place on the second day of the event, Wednesday, August 5, 2015, at 1:30 PM.
Edible Glitter™ is made using Watson's cast film technology. Watson was a pioneer in soluble and edible film technology, having started research and development on edible films in 1960. By 1964 the original dedicated production facilities for the manufacture of edible films were built by Watson and operated under the name Polymer Films Co., Inc.
Today, Watson produces films on two state of the art stainless steel drying lines equipped with 316 grade stainless steel belts. Each drying line is approximately 100 feet in length and uses Hepa-filtered drying air that is temperature and volume controlled. The lines are divided into multiple heating zones, each of which can be independently temperature-controlled to within 0.2 degrees Fahrenheit. This level of control is ideal in circumstances which require the drying of temperature-sensitive active ingredients. Belt speed is another variable which can be accurately controlled.
Refer to the Watson website for additional information on Edible Glitter™ and how it is made http://www.watson-inc.com/our-capabilities/film-technology/edible-glitter/edible-glitter-what-is-it-how-it-is-made/
As stated on the events website (http://www.rdseminarchicago.com/index.php/9-home-page), Prepared Foods' R&D Applications Seminar is "a practical, 2-day applications-oriented event, dedicated to further-educating the food & beverage industry's formulators on specific application challenges." The website also states: "The R&D Seminar was developed specifically to help further-educate formulators from food/beverage, ingredient, and service companies. Those who should attend include: Bench-level R&D, Technical service, Middle R&D management, Product formulators, Quality Control, and Application R&D." You can learn more about the seminar, see the event schedule, and register at http://www.rdseminarchicago.com/index.php.
About Watson:
Watson is one of the highest-quality suppliers of products and services geared towards enhancing human health and nutrition around the world. We are a leader in developing quality products and innovative ingredient systems for the food and supplement industries. Expertise in custom nutrient premixes, microencapsulation, agglomeration, micronizing, spray drying, and film technology allow us to develop unique formulations and products using Watson-manufactured, value-added ingredients. For more information on Watson visit http://www.watson-inc.com.
Contacts:
Watson Inc.
Moira Watson, V.P. Marketing & Communications
moira.watson(at)watson-inc(dot)com
800-388-3481 or (203)932-3000
Company info:
Watson Foods Co., Inc. DBA Watson Inc.

Corporate headquarters: 301 Heffernan Drive, West Haven CT 06516
CEO: James T. Watson
Website: http://www.watson-inc.com
Employees: 280