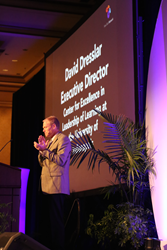 I need to share this award with all of the fantastic teachers, principal, district leaders and CELL colleagues for the work that they have done in making a difference in students' lives, said Dresslar.
Napa, CA (PRWEB) July 30, 2015
New Tech Network (NTN) announced July 22nd at its annual conference (NTAC) in Chicago, Illinois, that David Dresslar, Executive Director of CELL: The Center of Excellence in Leadership of Learning, was the recipient of the Susan Schilling Legacy Award.
Created in 2009 to honor Susan Schilling, former New Technology Foundation CEO and her contributions to the network and the broader education field, the Susan Schilling Legacy Award recognizes entrepreneurs in education who demonstrate leadership and contribute to the innovation and sustainability of the Network.
"On behalf of the entire New Tech Network community, it is my pleasure to recognize David for an extraordinary legacy. Without David's tenacity, passion and belief in the perfect union of the New Tech model and Indiana's keen desire to transform its future through re-inventing public education, we would not have the long success and broad acceptance in Indiana and beyond," said Lydia Dobyns, President and CEO of New Tech Network.
Dresslar's achievement was applauded by more than 1800 principals, teachers, superintendents, alumni and students — representing more than 180 schools nationwide — attending this year's conference which was held July 20-24, 2015. The five-day conference built upon New Tech's emphasis on graduating students ready for college, career and civic life. The conference also showcased NTN's district-wide support strategies and the spread of the model to elementary, middle and high schools.
"I am thrilled to receive this award which is especially meaningful to me because I had the privilege of working with Susan for a number of years. She exemplified all that we as educators strive to achieve, and I am honored to be associated with her name," said Dresslar. "Even so, I need to share this award with all of the fantastic teachers, principal, district leaders and CELL colleagues for the work that they have done in making a difference in students' lives."
As befits Susan Schilling's legacy, outstanding professional development is a hallmark of New Tech Network. "New Tech has been one the most supportive organizations for quality professional development I have encountered over my long career," continued Dresslar.
New Tech schools are grounded in three key design principles: teaching that engages (centered on project-based learning), a culture that empowers students and adults, and the pervasive use of technology to enable learning. Often working with the existing school district principals and teachers, NTN provides the training and coaching to implement the new school designs.
"As a country, we dwell on the 'going-to-college' problem, yet the even bigger crisis is that in the U.S we graduate far too many students who are not 'ready-for-college'," said Dobyns. "Our passion, and that of our partner districts, is about providing educational experiences that prepare students to be college and career ready ─ it's a dominant theme in education. Our goal in Chicago is to make "college and career ready" concrete and provide specific paths for teachers, principals and district leaders implementing the New Tech school design."
New Tech Network (NTN) recently released its 2015 Data Report showing a higher than national average rate of high school graduation and college enrollment from NTN schools located in diverse communities across the country. New Tech Network's strong student performance continues from previous years' outcomes and is noteworthy as the number of schools has expanded to more than 180 public K-12 schools in 28 states and Australia and China.
The event brought educators together to share strategies, learn new techniques and deepen the understanding of how best to support students in New Tech schools. Also included was professional development to support principals, teachers and district leaders who are preparing students for life after high school.
"The goal of NTAC is to "provide a venue where hundreds of educators spend a week seeing old friends, getting energized about making new ones, exchanging new ideas, challenging each other to reach new heights, sharing best practices, creating new 'agents' and shaping better 'agents' to be more effective in making an impact out in the field," said Dobyns.
First introduced in Napa, California, in 1996, the New Tech model has proven successful across diverse student populations in urban, rural, and suburban public high schools. New Tech is emerging as one of the fastest-growing approaches to transforming high school education in the U.S.