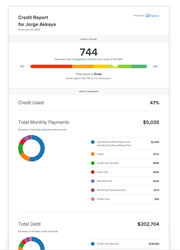 The introduction of background checks represents one more step in our mission to democratize technology to make renting less painful for everyone
Portland, OR (PRWEB) July 30, 2015
Cozy, the leading tenant screening and rent payment service for landlords and property managers nationwide, announced the availability of fully integrated background checks and tenant credit reports as part of Cozy's https://cozy.co/ no-cost property management software.
Cozy's new background checks don't require landlords to collect Social Security numbers or any other sensitive information, and they don't require any on-site visits. Cozy's background checks are fully FCRA compliant, and provided in partnership with Checkr. Likewise, Cozy's credit reports are built on data provided by Experian.
Cozy's background checks include full searches of national and county criminal records, past evictions, sex offender lists, and terrorist watch lists. With Cozy's recently redesigned tenant credit reports, property owners and managers will also get detailed information about outstanding debts, payment history, account history, and more. Debts are also categorized, which can make a huge difference — thousands of dollars in student loans can be evaluated differently from thousands of dollars in credit card debt.
When used in conjunction with Cozy's mobile-friendly online rental application, tenant screening tools provide landlords with a complete picture of their applicants' histories, including personal references, so they can make a more informed decision. The new mobile-friendly rental application also makes it easier for prospective tenants to apply from anywhere, on any device with an Internet connection, even right from an open house. Easier rental applications can frequently translate into more applicants for a vacant property. Still, for landlords who prefer to use their own rental application, all they need are their applicants' names and email addresses to run a background check and credit report.
Incomplete tenant screening can be costly: the average cost to evict a problem tenant can exceed $10,000, which could be avoided with a comprehensive background, eviction and credit check. Best of all, these screening tools are available at no cost for landlords. Cozy credit reports and background checks cost rental applicants just $34.95 when purchased together, or $19.95 each.
"The introduction of background checks represents one more step in our mission to democratize technology to make renting less painful for everyone," said Gino Zahnd, CEO and founder of Cozy. "Paired with credit reports that don't hurt tenants' credit scores, a reusable online rental application, and no-fee online rent payments, we're well on our way to making renting easier and more secure."
About Cozy
Cozy (http://www.cozy.co) makes renting easy for landlords, property managers, and tenants. Simple rent payments, rental applications and tenant screening make Cozy the best way for landlords and renters to deal with every part of the rental lifecycle.
Founded in 2013 and headquartered in Portland, Oregon, Cozy is used by tens of thousands of landlords who run their rental businesses in over 3,500 cities nationwide.