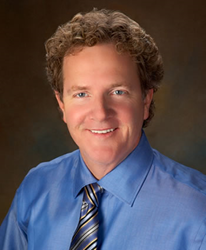 St. Petersburg, FL (PRWEB) July 28, 2015
Patients with multiple missing teeth are now welcome to visit Dr. Bruce Crawford's practice without a referral and find out more about affordable dental implants in St. Petersburg, FL. Dr. Crawford utilizes a specially-designed technique called All-on-4™ to fit dentures that are secured to patients' mouths with four implants. This technique is more affordable than receiving multiple individual implants and provides more strength and reliability than traditional dentures.
Dr. Crawford is excited to now welcome new patients to receive dental implants in St. Petersburg, FL, without a referral. He utilizes the All-on-4™ technique to help patients receive dentures that have the reliability of implants, without the high cost. Patients who want to replace all of their upper teeth with implants are often unable to do so because of the expensive costs normally incurred with such procedures. Additionally, many patients are simply not ideal candidates for traditional implants because they lack sufficient bone density within their jaw. Implant-supported dentures are not only more affordable than traditional implants, but they can also be placed in areas that are lower in bone volume or density, without requiring bone grafting procedures.
Another benefit of implant-supported dentures is the availability for immediate use. During normal implant placement procedures, patients do not actually receive the top part (or crown) of their implant until the post has become integrated into the bone of the jaw. This typically takes several months. Implant-supported dentures, on the other hand, are designed to function immediately after placement, allowing patients to recover more rapidly and resume their normal eating habits as quickly as possible. Because the dentures are secured tightly to the gums by snapping onto the implants, they are not susceptible to loosening or falling out of the mouth. Patients who receive implant-supported dentures appreciate the fact that they need not worry about their teeth appearing unnatural or falling out, causing embarrassment.
Dr. Crawford encourages patients who are considering dental implants in St. Petersburg, FL, to visit his practice without a referral, and find out more about the benefits of All-on-4™ implant-supported dentures.
About the Doctor
Dr. Bruce M. Crawford is a periodontist in St. Petersburg, FL, serving as a specialist for more than 20 years. Dr. Crawford not only specializes in treating gum disease and dental implants, he has also served a clinical professor at the University of Florida for more than 15 years. He believes having a healthy mouth leads to a healthy life, and enjoys helping his patients regain their confidence through improved health. To learn more about the dental services Dr. Crawford offers please visit his website at http://www.brucecrawford.com or call (727) 231-5908.