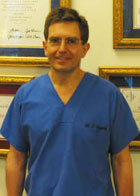 Bethlehem, PA (PRWEB) July 28, 2015
People who suffer from dental anxiety can now visit Dr. Joseph Gaspari to receive dental treatments that employ IV sedation. This sedation, which leaves patients conscious but highly relaxed, is strong enough to treat people with moderate to severe anxiety. Although IV sedation is not widely offered, Dr. Gaspari provides it to ensure that patients who may benefit from stronger forms of sedation dentistry in Bethlehem, PA, do not go without needed dental treatment.
During IV conscious sedation, sedatives are administered intravenously, which allows for a more accurate dosage and offers other benefits for patients. With IV sedation, Dr. Gaspari can ensure that patients with dental anxiety receive enough sedation to feel fully relaxed. In many cases, patients do not even remember undergoing treatment afterward. However, patients do remain conscious throughout the procedure, with the ability to respond to instructions and wake up if necessary. IV conscious sedation typically offers faster effects than other types of sedation, since it is administered more directly; this can reduce chair time and appointment length for patients. Additionally, patients may recover sooner after the procedure, since Dr. Gaspari can administer exact doses and avoid giving patients unnecessary levels of sedation.
Dr. Gaspari provides this form of sedation dentistry in Bethlehem, PA, to ensure that dental phobia or anxiety does not deter patients from seeking regular or necessary dental care. Many sufferers of this condition may ignore warning signs of oral health problems, potentially exposing themselves to greater complications in the future. By offering a stronger level of sedative treatment, Dr. Gaspari gives patients an alternative to forgoing care. IV conscious sedation is especially effective for patients who have trouble getting numb after receiving anesthesia. However, it may also help patients whose dental anxiety arises due to other issues, such as traumatic experiences, severe gag reflex or discomfort in the setting of a dental office.
In addition to IV sedation, Dr. Gaspari offers other anesthetic treatments to alleviate pain during treatment. Patients who are interested in learning more about these treatment options are encouraged to schedule consultations about sedation dentistry in Bethlehem, PA. Patients may directly call Dr. Gaspari's office or visit his practice website to set up appointments.
About the Practice
Gaspari Family Dental Care is a general practice offering personalized care for patients in Bethlehem, PA. Dr. Joseph Gaspari and his team are dedicated to providing comprehensive dental care through the use of innovative and modern techniques. They other services such as laser gum surgery, Chao Pinhole® Surgical Technique, sedation dentistry and dental implants. Dr. Gaspari is a Fellow with the International Congress of Oral Implantology and with the Misch International Implant Institute. He is also a member of the American Academy of Periodontology and the American Society for the Advancement of Aesthetics in Dentistry. To learn more about the services offered at Gaspari Family Dental Care, please visit their website, http://www.drgaspari.com or call (484) 552-2081 to schedule an appointment.