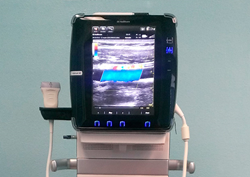 The image quality, available imaging applications and technical abilities of good portables are equivalent and sometimes superior to console systems.
St. Cloud, Florida (PRWEB) August 06, 2015
The world market for ultrasound systems will continue to grow until the year 2018 according to a recent market research report by a leading industry intelligence provider. The report, entitled "Ultrasound: World Market Analysis," was based on the analysis of current market conditions, and future innovation trends.
The global market for ultrasound devices was estimated to be valued at USD $6.5 billion in 2012. By 2017, that estimate is forecast to be USD $8.6 billion. North America is second only to Europe as the estimated largest market for diagnostic ultrasound followed by Asia-Pacific.
The key factors fueling the growth of the diagnostic ultrasound device market include accelerated growth in aging population with high risk of target diseases and the increasing demand for minimally invasive treatment procedures. The market growth is also attributed to the evolution of technologically advanced ultrasound devices, miniaturization of ultrasound devices and increasing public-private investments.
Traditionally large and expensive ultrasound systems have become progressively impractical in many clinical settings. The introduction of smaller more affordable, portable and handheld ultrasound systems is helping to drive the growth of the diagnostic ultrasound market by creating new point-of-care applications which large, conventional ultrasound systems could not address.
Ultrasound imaging has become the preferable alternative to other types of medical imaging. Magnetic Resonance Imaging (MRI) is often cost prohibitive. Moreover, the expanding awareness of the adverse effects of exposure to ionizing radiation of X-Ray and Computed Tomography (CT), makes ultrasound imaging attractive to both clinicians and patients.
New compact mobile ultrasound systems capable of 3-D imaging aid in accurate and rapid diagnosis in emergency settings as well as in complex surgical applications and interventional procedures. With the advancements and availability of portable diagnostic ultrasound systems, the use of "bedside ultrasonography" is expected to increase.
Over the past year, SonoDepot has seen a steady increase in the demand for portable ultrasound machines. With new, affordable models like the Alpinion E-CUBE, early, confident diagnoses are more accessible.
About SonoDepot
Floyd McAuliffe, Founder and President along with his brother Jack McAuliffe, CEO, are the owners of SonoDepot and trailblazers of OEM-Independent Ultrasound Support providing superior service to healthcare providers in the U.S. since 1985. SonoDepot, based in Central Florida, is an exclusive sales and service provider for the revolutionary Alpinion Ultrasound product line featuring E-CUBE. The company also proudly repairs, services and sells the industry's most respected brands including GE, Philips, HP, and Siemens. SonoDepot's services include ultrasound repair, transducer repair, probe evaluation and maintenance. They are retailers of both new and refurbished ultrasound systems. With a rapid 15-30 minute response time and 24/7 nationwide service, SonoDepot is keenly focused on customer service. In fact, 90% of SonoDepot's ultrasound repair clients are repeat customers who refer colleagues.
For more information on SonoDepot and its products and services visit http://www.ultrasoundrepair.com