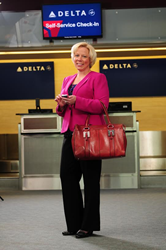 I work with Converge because they believe what I believe.
Cedar Rapids, IA (PRWEB) July 29, 2015
Dr. Brenda Harms, former Senior Vice President at Converge Consulting, will continue to work with Converge in higher education.
A leading expert in serving adult students within the higher education industry, Harms has assisted dozens of colleges and universities in successfully and strategically growing their enrollment through evaluation of key metrics, implementation of proven processes, design and execution of successful marketing strategy and tactics, and training for both management and staff.
Harms recently founded Harms Consulting to focus on her expertise in recruitment marketing and enrollment growth.
"I observed a great need and a good time to develop a business," said Harms.
CEO and Founder of Converge, Ann Oleson said, "We couldn't be more pleased to see Brenda launch Harms Consulting. As a seasoned veteran in the higher education marketplace Brenda brings years of experience, from hundreds of institutions, and is highly respected in the field. We are excited to continue our relationship with Brenda."
Harms will join forces with Converge Consulting in higher education and assist Converge's efforts to help colleges and universities grow enrollment.
"I work with Converge because they believe what I believe," said Harms. "The future of higher education marketing and recruitment is evolving, and the big winners will be those schools willing to do something bold, something new, something progressive."
Converge will host a free webinar with Dr. Brenda Harms on September 10, 2015 at 2:00PM EST. Harms will share how to convert digital leads into adult and graduate students.
As more colleges and universities leverage digital advertising practices to increase adult and graduate student lead-flow, many struggle with converting these hard-won digital leads into students. The webinar will provide fresh perspectives on this important lead source.
Harms will also present at Converge 2015, hosted by Converge Consulting in New Orleans, Louisiana, on October 21-22. She will lead an interactive session on when and how to contact prospective students, featuring examples of do's and don'ts.
Converge Consulting is a higher education inbound marketing firm with offices in Cedar Rapids, Iowa, Denver, Colorado and Manhattan Beach, California. Converge uses what's new and next in content strategy, search engine optimization, digital advertising, web analytics and visual storytelling to positively impact student recruitment and alumni engagement for colleges and universities around the world.