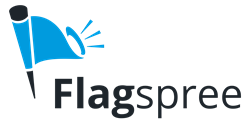 "By combining mobile messaging with location, Flagspree is bringing meaningful context to mobile's most fundamental use - messaging."
Atlanta, GA (PRWEB) July 29, 2015
Imagine if you were never late for an important meeting, you never missed a sale at your favorite store, and you could let your loved ones know you're thinking about them by leaving a special message that they discover when they arrive at work or school. Flagspree, a unique location-based messaging app, is aiming to make these possibilities and many others a reality.
Founded in 2014 by a group of Atlanta-based entrepreneurs, Flagspree is the only mobile messaging app that brings time and place together to help users create meaningful moments with messaging. With mobile usage dominated by messaging (SMS), Flagspree sets out to bring more context to that communication by adding location to the mix. By using battery-safe GPS technology, the app allows users to share virtual messages with one another anywhere in the world.
"By combining mobile messaging with location, Flagspree is bringing meaningful context to mobile's most fundamental use - messaging," said Tyler Frost, the company's VP of Product, on the vision for Flagspree, a free service that's available for Apple and Android devices. "We want to help make mobile messaging multi-dimensional."
The service has both B2C and B2B applications. The Flagspree team is currently focused on adding partnerships with regional and local businesses, which can utilize Flagspree as a proximity platform for two-way communication with consumers. Businesses can leave flags for consumers anywhere, offering incentives and special deals based on the consumers' whereabouts, and establishing a dialogue within a passionate community.
As a consumer service, Flagspree enables users to leave messages containing text, images and audio in the form of "flags" for others anywhere in the world. Flags are placed virtually but are "tripped" in the physical world. Each flag has a unique, adjustable perimeter surrounding it (a geofence). When an intended recipient steps inside the perimeter and trips the flag, the message and associated media is displayed on the recipient's mobile phone.
With Flagspree the possibilities are endless.
During a user's travels flags can be left for others about places to visit and things to see. They can provide guided tours, travel tips or step-by-step directions. Users can be notified when their kids arrive home from school by leaving a flag at the front door. Flags can be planted containing welcome messages for attendees as they arrive for meetings, conferences or conventions. Users can take their rooting interests to a whole new level by leaving banter messages for fans of opposing sports teams as they approach the stadium or arena. All flags can be enhanced by rich media, including maps, brochures, schedules, coupons, highlights and much more.
Flags can be private and shared with one or more specific individuals, or users can take advantage of Flagspree's groups feature and exchange location-based content with other members of a public group, which can be based on categories, affiliations, or any other special interest.
With Flagspree, mobile messaging can now be based on where people are. By allowing users to leave virtual messages for one another anywhere in the world, Flagspree brings time and place together to help people create meaningful moments with messaging.
*****
To Download Flagspree
Apple: https://itunes.apple.com/us/app/flagspree-location-based-messaging/id976633745
Android: https://play.google.com/store/apps/details?id=com.fanteq.flagspree
Product Video: https://www.youtube.com/watch?v=KZj4NqN48qE&feature=youtu.be