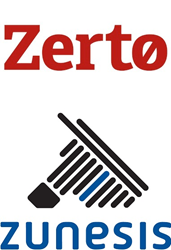 [Clients] look to us to guarantee that their applications will be protected...Zerto provides that assurance.
Denver, CO (PRWEB) July 29, 2015
Zunesis, Inc. announced today that they have joined the Zerto Alliance Partner (ZAP) Program to offer clients award-winning Zerto Virtual Replication. Zerto's hypervisor-based solution offers the only business continuity and disaster recovery (BC/DR) built for protecting mission-critical applications deployed in virtualized data centers and cloud environments. Under the program, Zunesis has access to the tools and support to deliver unparalleled, real-time, cost-effective BC/DR to enterprises of all sizes.
"Zerto combines the enterprise-class features of physical replication with the flexibility, ease of management, and scalability of virtual environments," said Sean Milner, Regional Director, Zerto. "We are proud to collaborate with some of the most innovative and advanced organizations in the world to develop, sell, support, integrate and deliver enterprise-class BC/ DR solutions."
As one of the leading IT solution providers in the Rocky Mountain Region, Zunesis is thrilled to be able to provide their clients with stable business continuity plans through their new partnership with Zerto.
"We know that our clients need assurance that their mission-critical applications are protected," said Zunesis CEO, Steve Shaffer. "Their businesses lose money every minute that their systems are down, so they look to us to guarantee that their applications will be protected when the storm comes. We are excited to partner with Zerto because we know they provide that assurance."
About Zunesis
Zunesis is a leading IT solution provider with locations in Colorado and Nevada. Our vision centers around an intense focus on serving our customers and bringing value to their business through strategic IT solutions. In April 2015, Zunesis was named to the CRN TechElite 250 for the 6th consecutive year as a best-of-breed solution provider with deep technical expertise and premier certifications.
About Zerto
Zerto is committed to keeping enterprise and cloud IT running 24/7 by providing innovative, simple, reliable and scalable business continuity software solutions. Through the Zerto Cloud Continuity Platform, organizations can seamlessly move and protect virtualized workloads between public, private and hybrid clouds. The company's flagship product, Zerto Virtual Replication, has become the standard for protection, recovery and migration of applications in cloud and virtualized data centers, and won numerous awards, including Best of Show at VMworld 2011, Best of VMworld Europe 2014, as well as 2011, 2012 and 2013 Product of the Year Awards for its innovative hypervisor-based replication approach. For more information, go to http://www.zerto.com.