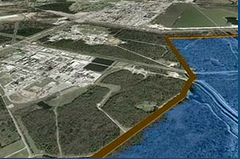 Houston, TX (PRWEB) July 29, 2015
Costello served as Lead Levee Design Engineering Manager for a feasibility study of a new levee system to protect the Orange County, Texas area from future storm surge flooding, such as occurred in Hurricane Ike in 2008.
Leading the multi-firm design team in determining several potential levee alignment alternatives for providing protection, Costello also balanced socio-economic and environmental needs and concerns. The team provided levee design criteria and guidelines to the team in order to develop preliminary right of way needs and construction cost estimates.
Costello also developed a unique evaluation system to rank each alternative, considering many aspects of the project, including which considered traditional Benefit-Cost ratios, along with numerous other engineering and common-sense based variables to aid the project sponsors in selecting the most reasonable project for further study and design.
The Costello levee, dam and flood control works team has extensive local experience in the creation of levee districts, the design and construction of levee systems, the design of internal and external drainage systems to supplement levee system functions, the analysis and design of dams, including breach analyses and Emergency Action Plans (EAP), and inundation studies.
Read more: