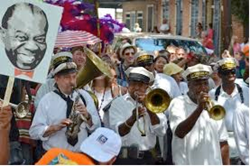 "In 2015, FQFI will implement a nominal $5 daily admission fee but kids under 12 are free," said Marci Schramm, FQFI Director.
New Orleans, LA (PRWEB) July 28, 2015
The 15th Anniversary Satchmo SummerFest presented by Chevron is July 31st – August 2nd at the Louisiana State Museum's Old U.S. Mint. Produced by French Quarter Festivals, Inc. (FQFI), Satchmo SummerFest presented by Chevron is an unparalleled celebration of the life, legacy, and music of New Orleans' native son, Louis Armstrong. The event brings performances from New Orleans' most talented musicians, with a focus on traditional and contemporary jazz and brass bands. Festival dining at "Red Bean Alley" provides refreshing options from over a dozen local restaurants including new vendors the Rib Room and Tujague's. The Satchmo Symposium, Pops' Playhouse for Kids, and Satchmo: His Life in New Orleans – a new exhibit done in partnership with the Louis Armstrong House and Louisiana State Museum - are scheduled inside the air-conditioned Louisiana State Museum's Old U.S. Mint.
"In 2015, French Quarter Festivals, Inc. will implement a nominal $5 daily admission fee but kids under 12 are free," said Marci Schramm, FQFI Director. "This fee will be used to keep the quality of the event high and build towards growth and future expansion."
Opening Night Festivities
On Thursday, July 30th, Satchmo SummerFest presented by Chevron will kick-off with a fundraiser to benefit French Quarter Festivals, Inc. A special screening of the 1956 classic, High Society will take place at Le Petit Théâtre du Vieux Carré, one of the oldest community theatres in the country. Starring Louis Armstrong, Bing Crosby, Frank Sinatra, and Grace Kelly, the film - the last Grace Kelly made before marrying Prince Rainier of Monaco – follows the story of a musician vying for his ex-wife's affections. High Society was nominated for two Oscars, including Best Song, for Cole Porter's "True Love." A limited number of tickets are available for $50, and balcony seating is now available for $25. Tickets may be purchased at http://www.fqfi.org. Admission will include refreshments including champagne and gourmet popcorn. Hats, gloves, and seersuckers are encouraged for this red carpet event!
Live, Local Music and Free Dance Lessons
Artists making their Satchmo SummerFest debut in 2015 include Deacon John, Jamil Sharif, The Palm Court Jazz All Stars, and Ecirb Müller's Twisted Dixie, a project of Dr. Brice Miller that takes the relaxed vibe of traditional jazz and updates it with elements of pop, hip hop, go-go, swing, dub-step and free jazz.
Jewel Brown returns to Satchmo SummerFest for the first time since 2005. In the 1960's, the vocalist was offered positions with Duke Ellington and Louis Armstrong and "immediately" chose Armstrong. The two worked together for seven prolific years that included international tours and films. In addition to the Saturday, August 1st performance with the Ella and Louis Tribute Band, Ms. Brown will be interviewed by Fred Kasten at the Old U.S. Mint at 2:30pm.
Grammy-winning percussionist Bill Summers also returns to perform jazzed up versions of Afro-Cuban and Latin roots music with the band, Jazalsa. Summers, an original member of Herbie Hancock's Headhunters band, worked with Quincy Jones on the musical score for "Roots", performed with Los Hombres Calientes, and has collaborated with countless artists including Michael Jackson, Tupac Shakur, Anita Baker, Carlos Santana, Miles Davis, Dizzy Gillespie, Prince, Sting, Stevie Wonder, and Ella Fitzgerald.
Grammy-winning Rebirth Brass Band makes a rare Satchmo SummerFest appearance by closing out the "Red Beans & Ricely Yours Stage" on Friday, July 31st. Since 1983, Rebirth has upheld the New Orleans brass band tradition while infusing it with funk and hip-hop to create a signature sound. Festival organizers are thrilled to welcome them back to the event after a five-year hiatus due to an international touring schedule.
Returning festival favorites include: Connie Jones and Tim Laughlin, Charmaine Neville, Don Vappie & The Creole Jazz Serenaders, James Andrews, Jeremy Davenport, Kermit Ruffins, Lars Edegran's Ragtime Orchestra, Meschiya Lake, PresHall Brass Band, Robin Barnes, Shannon Powell Traditional All Star Band, Treme Brass Band, Yoshio Toyama & the Dixie Saints, and many more.
Between musical sets, dancers of all levels can enjoy free dance lessons from New Orleans' best dance teachers at the Cornet Chop Suey Stage each day of the festival. Dance lessons are free and open to the public and are taught and sponsored by NOLA Jitterbugs. Click here to view the full music schedule: http://fqfi.org/satchmo/schedule/stage.
Satchmo: His Life in New Orleans
While inside the museum, visitors can also enjoy the new, never-before-seen exhibit, Satchmo: His Life in New Orleans. A collaboration between Satchmo SummerFest presented by Chevron, the Louis Armstrong House Museum in Queens, New York, and the Louisiana State Museum, the exhibit includes rare artifacts such as Armstrong's first cornet from the New Orleans Colored Waifs' Home side-by-side with the last Selmer trumpet brought to New Orleans for the musician's final visit in 1968. Pages from Armstrong's unpublished manuscripts will be included, in addition to rare audio from Armstrong's private tapes. Numerous photographs will follow Armstrong's upbringing to later return visits, such as a first heroic trip home in the summer of 1931 and the time in 1949 when Armstrong's boyhood ambition of being named "King of the Zulus" was finally realized. Armstrong's difficult relationship with the city's race relations will also be touched on, including when Armstrong stayed away from home for decade because the integrated band of All Stars was prohibited from performing in public in the late 1950s and early 1960s.
Happy Birthday, Satchmo!
Satchmo SummerFest is scheduled annually to coincide with Louis Armstrong's birthday on August 4th. The artist often stated in public interviews that his birth date was July 4, 1900 (Independence Day), a date that has been noted in many biographies. Armstrong died in 1971 and the true birthdate, August 4, 1901, was not discovered until the mid-1980s. Louis Armstrong was raised in a poor section of New Orleans known as "Jane Alley." Throughout a star studded career, Louis Armstrong entertained millions – from heads of state and royalty to the neighborhood kids in Corona, New York. Despite enormous fame, he lived a simple life in a working-class neighborhood.
The man known around the world as "Satchmo," short for Satchelmouth, was widely recognized as a founding father of jazz – a unique American art form. In 1932, Melody Maker magazine editor Percy Brooks greeted Armstrong in London with "Hello, Satchmo!" and the nickname stuck. Satchmo's influence, as an artist and cultural icon is universal, unmatched, and very much alive today.
###
About French Quarter Festivals, Inc.
Satchmo SummerFest is produced by French Quarter Festivals, Inc. (http://www.fqfi.org), the 501 (c) (3) nonprofit organization, which also produces French Quarter Festival in April and Christmas New Orleans Style! in December. French Quarter Festivals, Inc. promotes the Vieux Carré and the City of New Orleans through high quality special events and activities that showcase the culture and heritage of this unique city, contribute to the economic well-being of the community, and instills increased pride in the people of New Orleans. For more information on all FQFI festivals and events, call (504) 522-5730 or visit online at http://www.fqfi.org.