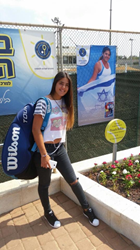 New York, NY (PRWEB) July 29, 2015
The Israel Tennis Centers proudly announced that 17-year-old Rotem Ashkenazi, who trains at the ITC – Ramat Hasharon, was crowned world champion at the inaugural 2015 World Deaf Tennis Championships in Nottingham, England, this past weekend. Organized by the Tennis Foundation, the leading tennis charity in Great Britain, the tournament featured deaf athletes from 20 different countries around the world. Click to see the stirring awards ceremony: https://youtu.be/G8Tz08T1iws
Deaf since birth, Rotem started playing tennis when she was 6 years old. At the age of 12, she joined the ITC – Ramat Hasharon and today she is the only female deaf competitive tennis player in Israel. For the past few years she has played national tournaments as a member of the ITC National Girls Team and is currently ranked 21st in the Israeli U-18 category. She volunteers at the ITC coaching younger children with disabilities and is a recipient of the prestigious ITC's Cohen Mintz Tennis Scholarship.
Rotem is an extraordinary positive and determined young woman who has never let her hearing impairment slow her down in any way. As her father proudly noted, she views the ITC as "her second home… really her main home. " He went on to thank Eyal Taoz, ITC – Ramat Hasharon Manager, for giving her the tools to excel in her daily life.
The World Deaf Championships was Rotem's first time playing against other deaf players. She not only defeated the best deaf tennis players in the world, she vanquished them, dropping only two games in the three matches in which she competed. In the finals, Rotem breezed to an 8 – 1 victory over Jana Janosikova of Slovakia. Her incredible success is testimony to the impact of ITC's social impact programs in helping Israeli children of all backgrounds, with or without disabilities. These include those with special needs like Rotem, Youth At-Risk, Coexistence and Immigrant Assimilation.
"I was very interested to play against other deaf players, since I've only ever played against hearing players at the ITC," said Rotem. "I was curious to meet so many people with hearing disabilities from around the world. Most of all, I was very excited to represent Israel." And what a great ambassador she is! Rotem's training at the ITC – Ramat Hasharon has given her the ability to become a champion both on and off the court.
About the Israel Tennis Centers Foundation:
The Israel Tennis Centers Foundation (ITC) is a 501 (c) 3 not-for-profit organization that works tirelessly through the medium of sport to enhance the development of Israeli youth. Since opening its first center in Ramat Hasharon in 1976, the ITC has helped over a half million children, many of whom come from outlying development towns throughout Israel. The ITC's 14 centers stretch from Kiryat Shmona on the Lebanese border in the North to Beer Sheva bordering the Negev Desert in the South. http://www.israeltenniscenters.org.
Contacts:
Jacqueline Glodstein
ITC Vice President/Global Development
646-884-7450
jglodstein(at)israeltenniscenters.org
Richard Weber
ITC Global Director of Marketing
646-884-7410
rweber(at)israeltenniscenters.org