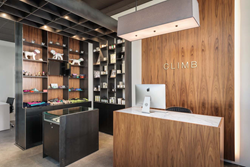 Climb's partnership with SFMade includes hosting a unique SFMade retail space at Climb's Mission Bay office.
San Francisco, CA (PRWEB) July 29, 2015
Climb Real Estate is proud to partner with SFMade, a California 501(c)(3) non-profit corporation based in San Francisco that is the only organization of its kind focused on building the city's economic base by developing the local manufacturing sector. SFMade is dedicated to developing and supporting a more diverse and sustainable local economy, where companies that design and manufacture products locally thrive, which in turn helps to create quality jobs for people from all walks of life and contributes to the overall economic and social vibrancy of San Francisco.
"We're thrilled to be partnering with SFMade," said Climb Real Estate CEO and founder Chris Lim. "At Climb, we take a great deal of pride in bringing value back to the communities where we work and live. Through our ongoing relationship with SFMade, we're helping to promote and support some truly outstanding San Francisco-based businesses."
Climb's partnership with SFMade includes hosting a unique SFMade retail space at Climb's Mission Bay office. Opened in 2014, the office displays a rotating selection of SFMade member products. Current SFMade member companies on display include Waffles & Honey Jewelry, Urban FarmGirls, 3 Fish Studios, and Etta + Billie.
"This innovative partnership with Climb continues to provide a unique opportunity for our member companies to showcase their products at Climb's office, reaching a new and targeted audience of consumers," said SFMade Senior Director Janet Lees. "We are about to launch the second rotation of products and look forward to building on the success our brands have already experienced."
SFMade engages directly with local entrepreneurs and growing small companies, offering industry-specific education and networking opportunities and connecting their member companies to powerful local resources. Moreover, the organization focuses on helping sustain and create job opportunities for the city's low-income communities, as well as for individuals who traditionally have had fewer opportunities when it comes to education, business experience, or skill development.
To learn more about SFMade and its more than 500 local businesses, be sure to visit their website (http://www.sfmade.org). Feel free, also, to stop by Climb Real Estate's Mission Bay office at 325 Berry Street to check out a selection of great locally-made products by SFMade member companies.
ABOUT CLIMB REAL ESTATE
Climb Real Estate Group is a recognized leader in the marketing and sales of Bay Area residential real estate. The San Francisco-based independent and locally-owned brokerage is proud to be the leader in the purchase and sale of a diverse array of homes ranging from $80,000 parking spots to million-dollar mansions, new development studios to luxurious view penthouses, live/work lofts to charming bungalows and single-family homes. With more than 11 years of real estate marketing experience and collective sales in excess of a billion dollars, Climb Real Estate Group offers unparalleled marketing and sales expertise with offices in Potrero Hill, Noe Valley, Mission Bay, and Oakland's Jack London Square.
ABOUT SFMADE
SFMade's mission to build and support a vibrant manufacturing sector in San Francisco by sustaining companies that produce locally-made products encourages entrepreneurship and innovation and creates employment opportunities for a diverse local workforce. SFMade collaborates with both the public and private sectors to define and enhance the local infrastructure—from access to capital to industrial land-use policy—required to support a vibrant manufacturing sector.