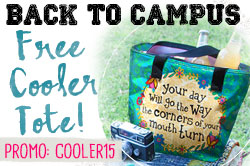 Jacksonville, FL (PRWEB) July 30, 2015
Natural Life, a company known for their free spirit items, with a positive vibe, announces a large back to school promotion.
The promotion features items from the line's 'Back to Campus' series including collapsible hampers, tapestries, inspirational flags for hanging in dorms or any room, phone wristlets, cozies, lunch bags, pillows, decorative wall art, and clothing.
A staple of the line includes bohemian themed totes. The roomy bags are sized appropriately for trips around campus as well as to and from extra curricular activities. The totes are complemented perfectly by Natural Life's current gift with purchase option, a cute cooler tote. Ideal for snacks on the go, the cooler is being offered free with any purchase totaling $60 or more. In order to claim the tote, shoppers need to enter code "COOLER15" at checkout.
In addition to the funky totes and coolers, shoppers can also select accessories like Boho Bands and customizable Junk Market necklaces to help craft a unique back-to-school look.
The promotion is live on the website now, and is also reflected at Natural Life's flagship store in Jacksonville, Florida.
As always, all orders over $50 will qualify for free domestic shipping.
About Natural Life
Natural Life is a lifestyle brand that makes irresistible treasures with a free-spirit style and positive vibe. Natural Life is passionate about making a difference in the world through their products as well as their GiveBack efforts. A portion of profits are donated to non-profit organizations they've carefully chosen that share their mission to make the world a better place by inspiring people to give and live happy. Natural Life products can be found online and in over 6000 retailers nationally and internationally.