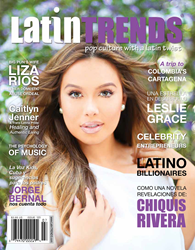 (PRWEB) July 29, 2015
She's emerged from behind her mother's shadow and has finally come into her own; Chiquis Rivera gives LatinTRENDS her most open and honest interview yet. Rivera sets the record straight about issues like; not being the root cause of her mother, Jenni "La Diva de la Banda" Rivera and Esteban Loaiza's divorce; her sexual identity; and her relationship with her fans. Rivera also discusses her new book, "Forgiveness" and her new album "Ahora."
Leslie Grace is a rising star and she has no competition. In her interview with LatinTRENDS, Leslie Grace reflects on having achieved musical success while still in high school and why she chose bachata as a musical genre. She discusses her new EP "Lloviendo Estrellas," one that marks Grace's debut with Sony Music Latin.
He's a household name, but Jorge Bernal details how he went from wiping cameras and sweeping sets to becoming the host of hit shows like "Al Rojo Vivo," "Suelta la Sopa" and "La Voz Kids."
This month, LatinTRENDS gets deep into issues affecting our culture. See our in-depth piece about the influence of Caitlyn Jenner on the Trans Latino community; the brutal tale of Liza Rios' marriage to Christopher Lee Rios, also known as "Big Pun;" and a who's who among Latino billionaires.
This issue also highlights fashion designers Iliana Quander and Martin Polanco and their dedication to eco-friendly fashion. In addition, our summer issue showcases travel to Cartagena, Colombia; the psychology of music; and summer super foods
About Us:
LatinTRENDS produces cutting edge content and distributes it in a 360° integrated platform, which includes print, online, digital and social media. The company also activates Geo-targeted branding & awareness campaigns for brands and produces lifestyle & influencer events.
Download the LatinTRENDS app on all iPhones, iPads and Androids via Pocketmags.com today!
For more information, please contact Maria V. Luna at (212) 852-6164 or via email at mluna(at)latintrends.com