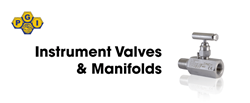 PGI is a leader in providing high quality instrument hand valves, block and bleed valves and manifolds.
Calgary, Alberta (PRWEB) July 30, 2015
Telematic Controls is excited to announce new products have been added to their PGI lineup of valves and manifolds. Available on the online store immediately, customers will now see an influx of stock and new products available under the high quality and long lasting PGI brand.
Jason Stephens, Telematic Technical Sales & Support, says "PGI is a leader in providing high quality instrument hand valves, block and bleed valves and manifolds. The end user has a wide selection of body designs, seat materials, and stem packing to meet pressure, temperature, and process requirements."
PGI is a division of the Parker Hannifin Corporation which specializes in global energy, OEM and agricultural industries. Since 1941, PGI products have been a staple in heavy industries, and are well-known for being durable and reliable. Featuring their patented Teflon® Pressure-Core® Stem Seal, PGI offers a wide range of valves and manifolds to fit any service.
Gerald Aylward, Telematic Shop Supervisor, says "When it comes to blocking or isolating your components from its processes, look no further than Telematic controls' proud line of PGI Valves. Block and bleed, Hand valves, and Manifolds from PGI are a dependable, reliable and cost effective way to allow for a smooth transition when repairing or replacing instruments in your applications. Any of Telematics technical sales and support team can assist in acquiring the correct item for your needs with the proper wetted parts, design, ratings and approvals."
PGI is no stranger to excellence in the field of process control. In 2009, PGI was awarded the '09 Supplier Leadership Award from Emerson – Rosemount. This is including being re-certified to ISO 9001:2008, as well as meeting the requirements of API Q1, ASME, and product certifications for API, Underwriters Laboratory, Factory Mutual, CSA and D.O.T.
To learn more about their expanded line of PGI products, or to start shopping now, visit Telematic Controls.