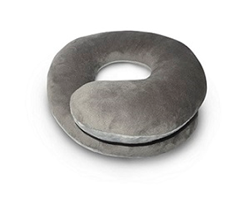 "This is a notoriously delicate area and the Contour 360° is the first travel pillow I have used that fully supports my head and neck" said Dr. Fernando Valverde M.D. after test driving the pillow for innovative travel accessory distributor PB Travel.
Miami, Fl. (PRWEB) August 26, 2015
PB Travel Enters the Contour Travel Pillow Market with the First 360° Support Travel Pillow
PB Travel announced the introduction of the first 360° full support travel pillow -- the Contour 360° Travel Pillow®. The Contour 360 combines affordability with a ground breaking design element of a 360° support for the neck and head not found in the travel pillow market to date. The Contour 360° Travel Pillow® has a unique ergonomic design that allows the traveler to use pillow in 6+ positions.
The Contour 360° Travel Pillow® will be a welcome relief to the discerning traveler who logs many hours on a plane for work or international pleasure travel. Unlike the classic U shaped travel pillows that leave the head and neck unsupported, The Contour 360° Travel Pillow's® unique patented 360° design supports the neck and head with an innovative donut hole design that tightly hugs the full circumference of the neck and helps to prevent the uncomfortable results of lack of support. The very unique shape where the two ends of the pillow overlap makes The Contour 360 Travel Pillow the only travel pillow that adjusts to your favorite sleeping positions instead of you adapting yourself to the pillow.
For those looking to travel comfortably without breaking the budget, The Contour 360° Travel Pillow® costs $19.99 and has a soft velour cover and a comfortable poly-fil. It comes in 2-tone grey and 2-tone blue.
The Contour 360° Travel Pillow® will be available for sale via http://www.pb-travel.com and http://www.amazon.com