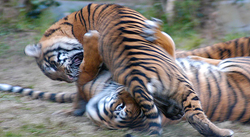 Saving tigers will require a world that cares. In the words of renowned field biologist George Schaller, "I learned long ago that conservation has no victories. It's a never-ending process that each of us must take part in." Sharon Guynup
San Diego, CA (PRWEB) July 29, 2015
Endangered tigers website Tigers in Crisis.com has posted a five-part interview series with Sharon Guynup on "Saving Endangered Tigers" to celebrate Global Tiger Day on July 29, 2015.
Guynup, who has written for the New York Times, Smithsonian, Scientific American, National Geographic.com, Popular Science, and many other publications, is co-author of "Tigers Forever: Saving the World's Most Endangered Big Cat."
Tigers Forever is a collaboration with award-winning National Geographic photographer Steve Winter, and is published by National Geographic Books.
The five-part Tigers in Crisis.com interview series with Guynup focuses on the threats facing endangered tigers and the efforts being made to save them.
"Saving tigers will require a world that cares," says Guynup. "In the words of renowned field biologist George Schaller, "I learned long ago that conservation has no victories. It's a never-ending process that each of us must take part in."
Go to Tigers in Crisis.com for the full interview.
In the interviews Guynup also talks about why she cares about saving tigers in the wild.
"In 2008, I was given an assignment to explore the state of tigers in India," says Guynup. "I traveled to Kaziranga National Park, in the state of Assam, a scrap of northeast India sandwiched between Bangladesh, Bhutan and Myanmar that is one of Asia's few remaining strongholds for a staggering variety of wildlife, many of them endangered species.
"This is where I saw my first tiger," she says. "It was both thrilling and terrifying. He was a mature male, massive, both sleek and powerful, majestic. It's no wonder that this animal has been both feared—and revered—throughout human history. This cat, the world's largest, is utterly awe-inspiring. Seeing a tiger in the wild, and learning about their precarious status compelled me to speak up for them before they're gone."
Guynup says individuals are a "key" to saving tigers in the wild.
"One important action individuals could take is writing letters, or targeting petitions, to U.S. Secretary of State John Kerry asking that the US negotiate with China, urging them to shut down tiger farms and tiger trade—before tigers are gone forever."
The five-part interview series is to promote Global Tiger Day which will be celebrated on July 19, 2015.
Tigers in Crisis.com was created in 1998 by Endangered Species Journalist Craig Kasnoff as a way to promote the plight of endangered tigers and the efforts to save them. Over the last 16 years, Tigers in Crisis.com has been visited by millions of people looking for information on endangered tigers.