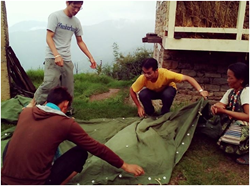 No matter the problem, something can be done about it
Los Angeles, CA (PRWEB) July 28, 2015
As a pledge to help Nepal fully recover from the devastating earthquakes that wracked the country this spring, a permanent Scientology Volunteer Ministers Center is now open in Kathmandu to train and coordinate the work of Volunteer Ministers throughout the country.
On the scene from the early hours of April 25, the Volunteer Ministers have continued to provide relief throughout the spring and summer months, joined by an international team of search and rescue specialists including Los Topos from Mexico, Peru, Brazil and Ecuador, and CINAT (National Circle of Aid Technicians) of Colombia. Trained Volunteer Ministers have come from around the world to help, including teams from the U.S., India, Pakistan, Australia, Fiji, Thailand and Mexico.
Hundreds of Nepali Scouts and other local residents trained on Volunteer Ministers technology joined the Volunteer Ministers, carrying out projects in Kathmandu and in villages throughout the country, to aid the recovery effort.
That work continues. Teams of Volunteer Ministers are carrying out demolition, cleaning and construction projects in the regions of Nuwakot, Lalitpur, Kavreplanchowk, Okhaldhunga and Sindhupalchowk, Dhading, Bhaktapur and Rasuwa. Teams are also distributing tents, sleeping bags and other humanitarian relief supplies in the villages Dolakha, Thuloban, Dunge, and Buldhanda.
The permanent Volunteer Ministers Center, a gift from the International Association of Scientologists, is equipped to train dozens of Volunteer Ministers at a time on a five-day program that gives them the basic skills they need to establish and run Volunteer Ministers groups in their areas, with the intention of making the technology available to everyone in Nepal.
About The Volunteer Ministers
Created by Scientology Founder L. Ron Hubbard in the mid 1970s, the Volunteer Minister program is a broad initiative bringing effective physical and spiritual assistance to anyone, anywhere. Expressly intended for use by Scientologists and non-Scientologists alike, anyone of any culture or creed may train as a Volunteer Minister and use these tools to help their families and communities. And all are welcome to do so.
Equipped with effective technology to resolve virtually any difficulty, Volunteer Ministers live by the motto: "No matter the problem, something can be done about it."
To provide more information on this and the other humanitarian initiatives it sponsors, the Church of Scientology International has published a brochure, Voice for Humanity—Real People, Real Help. To learn more, visit http://www.scientology.org/how-we-help/volunteer-ministers.html .