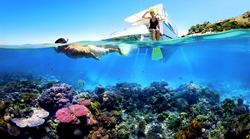 This could be one of those snap decisions people will remember and be grateful for the rest of their lives
San Ignacio, Belize (PRWEB) July 31, 2015
By acting quickly, families can take advantage of a surprise weeklong all-inclusive Belize vacation package that, for the month of August 2015 only, will help families end the summer in style with an affordable combination of rainforest adventures and a Caribbean beach sojourn, according to The Lodge at Chaa Creek's marketing officer.
Lea Itzab said that the all-inclusive Family Holiday Belize vacation package has been significantly discounted as a way for Chaa Creek to promote the popular eco-resort's focus on families while helping them prepare for the winter months ahead.
"Chaa Creek is a family owned and operated resort, and we wanted to dedicate a month to welcoming families the world over to join us in winding down the summer and getting ready for winter.
"We worked with our Caribbean colleagues at Robert's Grove on the Placencia Peninsula to create the ultimate, and surprisingly affordable, Family Holiday all-inclusive Belize vacation package," Ms Itzab said.
The weeklong Family Holiday all-inclusive Belize vacation package takes guests from the jungles and ancient Maya temples of inland Belize to the unspoiled Caribbean coast during a seamless holiday with all transfers, accommodation at both resorts, all meals, tours and activities included for one set price, she said.
"By joining forces with Robert's Grove and combining our resources, we were able to put together an all-inclusive Belize vacation package that offers a luxury experience at budget prices," Ms Itzab said.
During their stay at Chaa Creek, families will enjoy rainforest cottage accommodation, fine dining in the Mariposa Restaurant, excursions to ancient Maya temples including nearby Xunantunich, the stunning ancient city of Tikal in neighbouring Guatemala and the Maya ceremonial caves at Barton Creek, guided tours of the onsite Natural History Centre, Butterfly Farm and miles of nature trails crisscrossing the 365 acre private nature reserve Chaa Creek is situated on. There will also be time for swimming, canoe trips down the Macal River, visits to the Belize Zoo and more.
The Robert's Grove portion includes air transfer to Placencia, beachside accommodation, all meals, tours of the Cockscomb Jaguar Reserve, snorkelling off Belize's southern Cayes, a trip to Monkey River and swimming, snorkelling, beachcombing and walking along the seven mile sandy stretch of beaches and the charming fishing village of Placencia.
"We designed and priced this all-inclusive Belize vacation package to make it possible for families to make a sudden decision to hop a short flight and do something special together. With everything taken care of from the time we pick guests up at Belize's international airport until they are dropped back off, it is possible to make the decision, throw a few things into a bag and suddenly be enjoying some great adventures and quality time together.
"There really is something for everyone, from grandparents to toddlers, and I can guarantee that no one will be bored," Ms Itzab said, "It's the perfect way to do something together before the busy winter months set in. For once, kids will look forward to answering 'how I spent my summer vacation' when they return to school," she added.
Ms Itzab encouraged people to contact either Chaa Creek or their travel agents for further details and bookings.
"This could be one of those snap decisions people will remember and be grateful for the rest of their lives," Ms Itzab said.
The Lodge at Chaa Creek is a multi award winning eco resort set within a 365-acre private nature reserve along the banks of the Macal River in Belize.
ENDS