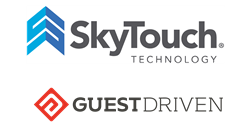 We see SkyTouch Hotel OS as a world-class platform built by a team that also has great global reach, and we're looking forward to working together to bring the guest experience to the next level.
Montreal, Quebec, Canada and Phoenix, Arizona, USA (PRWEB) July 29, 2015
Today, leading guest engagement technology provider GuestDriven and the number one cloud-based hotel management platform provider, SkyTouch Technology™, announce a new strategic partnership.
In a modern-day business environment where most industries are experiencing a disruption to some degree due to rapid technological development, hospitality and the hotel vertical have not been immune. In order to compete with the likes of Airbnb and to cater successfully to the growing millennial segment, hotels of all sizes need to learn to be nimble and lean. A partnership with GuestDriven enhances the flexible yet powerful SkyTouch Hotel OS® platform so customers can access mobile check-in and upgrade offers to help drive ancillary revenue and compete in the changing hospitality landscape.
Be Where Your Guests Are: Online
Cloud technologies offer user-friendly interfaces that can deliver transparent results on any screen or device, allowing hotels to be as mobile as their modern guests. More and more customers today expect self-service capabilities when it comes to check-in, upgrades, and other packages. The use of cloud and real-time technologies like SkyTouch and GuestDriven means that operations and engagement strategies can be tried, tested and improved easily to respond to those demands.
GuestDriven CEO Anthony Zebrowski-Rubin says the partnership is empowering for all involved. He sees that the leaders of hospitality today aren't just providing their guests a smooth and memorable physical experience on-site, but also a genuinely intuitive mobile experience.
"A solid guest engagement strategy allows the guest to have a frictionless and personalized experience," says Zebrowski-Rubin. "We believe that the quality of the guest experience is directly related to the engagement approach taken by the hotel as well as the systems that power the operations day-to-day. We see SkyTouch Hotel OS as a world-class platform built by a team that also has great global reach, and we're looking forward to working together to bring the guest experience to the next level."
"Effective mobile engagement means hotels can get in front of their guests in real-time before, during and after a stay, to offer products and services that are relevant to each individual guest," says Charlie Green, Director of Product Management & Business Development at SkyTouch Technology. "This partnership with GuestDriven enables SkyTouch Technology to provide hotels with mobile check-in capabilities and the opportunity to extend additional offers to their guests. It's exciting to give our customers another avenue to help drive revenue."
SkyTouch customers will benefit from the partnership with GuestDriven by gaining access to their mobile check-in capabilities at an exclusive price point, with no set-up charges or recurring fees. Using GuestDriven with the SkyTouch Hotel OS platform can help increase RevPAR by creating a new guest touchpoint and revenue stream, with a demonstrated ADR lift per check-in. SkyTouch's partnership with GuestDriven is designed to ensure hotels on the Hotel OS platform can meet the demand for a personalized mobile experience and successfully drive ancillary revenue at a low cost with no hidden fees, making it low risk and high reward.
About GuestDriven
GuestDriven is a Mobile Guest Engagement platform that enables hotels to interact directly with guests via their mobile devices. Valuable marketing data, including guest preferences and behaviors and social media profiles, is passed to hoteliers, which can be leveraged to elevate guest experience and increase revenues by offering personalized perks, promotions and rewards. An integrated suite of specialized tools for targeting, campaigning and interacting with guests at every stage of travel assists hospitality brands in enablement of customer advocacy, allowing hotels to reward loyalty in real-time. GuestDriven was named a Top 20 Company by the Canadian Innovation Exchange and was cited as one of three in the Gartner Cool Vendors in Hospitality report of 2015. Founded in 2010 and headquartered in Montreal, Canada, GuestDriven has implementations in over 60 cities and more than 300 properties worldwide. For more information see: http://www.guestdriven.com.
About SkyTouch
SkyTouch Technology provides a cloud-based hotel operating system that helps hotel companies meet their most important strategic objectives: to achieve growth, to advance operating performance and to improve the guest experience – all while evolving with changing customer needs. Accessible from anywhere, and recognized as CIOReview's 20 Most Promising Solution Providers of 2015, SkyTouch provides visibility and control of operations through real-time, impactful business analytics that can improve hotel guest experience, decision-making and results at the property, owner, management company and brand level. For more information about SkyTouch Technology, visit http://www.skytouchtechnology.com.
SkyTouch, SkyTouch Technology, SkyTouch Hotel Operating System and SkyTouch Hotel OS are proprietary trademarks and service marks of SkyTouch Solutions, LLC.