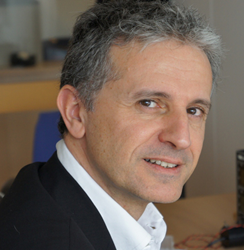 His arrival is in line with the pursuit and the reinforcement of the diversification momentum we initiated two years ago
Grenoble, France and Dallas, TX, USA (PRWEB) July 30, 2015
Tronics, a designer and manufacturer of innovative nano and microsystems, has appointed Francois Vieillard as Sales & Marketing Director.
With more than 25 years of experience in Sales & Marketing at executive positions, Francois Vieillard will be responsible for reinforcing Tronics' business development activities worldwide. He brings to the company his strong expertise in selling MEMS and software on a global basis. Over the course of his professional career, Mr. Vieillard has acquired an in-depth knowledge of the startup environment and has successfully negotiated large business deals (more than $100 million) with European, US and Japanese groups.
During his career, he was successively Sales Engineer then Sales & Marketing Director for significant semiconductor companies including National Semiconductor, Toshiba and Cirrus Logic. More recently, he served as Vice President in charge of Sales & Marketing for poLight, a Norway-based company specialized in Optical MEMS, where he strongly contributed to expanding the customer portfolio to include several industry leaders. Mr. Vieillard holds a Master's Degree from the Ecole Centrale d'Electronique (ECE) of Paris.
"We are delighted to welcome an executive of the caliber of François", said Pascal Langlois, Chief Executive Officer of Tronics. "His arrival is in line with the pursuit and the reinforcement of the diversification momentum we initiated two years ago. His strong Sales & Marketing skills coupled with his in-depth knowledge of the global industry perfectly match Tronics' growth ambitions, and will definitely strengthen our strategy to expand sales to industry leaders in high value-added markets."