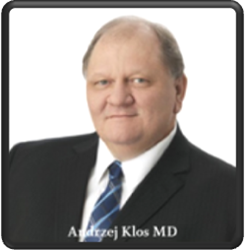 Scotch Plains, NJ (PRWEB) July 29, 2015
Andrzej Klos, M.D., has been reviewed and approved as an "NJ Top Doc"!
Dr. Andrzej Klos, a board-certified pediatrician for nearly 38 years, is motivated each and every day by his sincere desire to help children. Dr. Klos' hard work, dedication and commitment to his profession shine alongside his many awards and accolades, which include multiple listings in many highly regarded medical publications.
"I really try to help my patients. You know, I'm not looking for money. I even see patients with no ability to pay," Dr. Klos explains. "Sometimes, doctors turn patients away because they don't accept a specific kind of insurance, but I see all patients, people can pay for our care, though, because we do accept most major insurance plans. No matter what, the patient is the priority."
A native of Poland, Dr. Klos emigrated from his home country and decided that he wanted to pursue a career treating children. He completed a pediatric residency at Seton Hall University's Jersey City Medical Center and became a faculty member within the same residency program, during which he taught young residents in the area of pediatrics. In 1994, Dr. Klos created Hoboken Pediatrics, and has since successfully been helping patients and communicating with parents in the areas of general pediatrics, nutrition and prenatal development.
"Dr. Klos is our children's favorite doctor. Once [we] started to cooperate with him, [one of our children] never went back to hospital for any reason. Before that, visited emergency rooms quite often," said a patient of Dr. Klos'. "Dr. Klos is very highly recommended by us. He really knows what he is doing and his help comes straight from his heart."
Another recent patient of Dr. Klos said, "I have four children and for years my prior pediatrician said my children had allergies. It wasn't till I met Dr. Klos, who took his time to order the right blood exams that later revealed my children did not have allergies. He took his time in trying to find what the actual cause of their illness was, and once he did, he spent his time to explain everything to me in layman's terms, and figuring out a course of action. His expertise doesn't just end with treatment, but he followed up with my children to ensure they were improving. In my opinion, I wish I would have found Dr. Klos a whole lot soone! Two thumbs up!"
An active member within his industry, Dr. Klos teaches pediatrics to the family medicine residents at Hoboken University Medical Center. In addition, Dr. Klos is an active fellow of the American Academy of Pediatrics. On top of his numerous affiliations and dedications, he manages to work 10 to 12 hours each day. Looking ahead, Dr. Klos aspires to continue to treat children in need and help their families.
CarePoint Health Medical Group represents an important shift in the relationship between physicians, patients and communities and is a paradigm shift in the efficient delivery of top quality health care in the region. Doctors who make the transition from private practice to CarePoint Health Medical Group benefit not only from the opportunity to care for more patients, but are released from the risks and pressures of independent practice. CarePoint Health Medical Group provides stability and the opportunity to focus on their top priority: quality patient care. The practice is conveniently located in Hoboken, NJ. To learn more about Dr. Klos and the practice, please follow the link below:
http://www.njtopdocs.com/andrzejklosmd
About Us
NJ Top Docs is a comprehensive information resource of Top Doctors, Dentists and Hospitals. We are profiling over 900 Healthcare Providers and have made it convenient for you to find them.
NJ Top Docs allows patients to "meet" these providers online before making their appointment.
For more information, visit http://www.NJTopDocs.com.
You can also follow us on Facebook – Twitter – YouTube