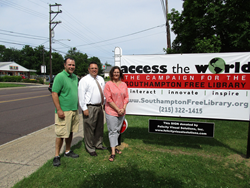 (PRWEB) July 31, 2015
Felicity Visual Solutions recently donated a sign to help a local library get more visibility for it fund raising campaign. The sign, which was a post and panel solution, contains mounted banners and a custom cut thermometer display allowing the campaign progress to be visible on the sign.
As part of its mission, Felicity Visual Solutions instills a foundation of business ethics in its culture and strives to make an effort to give back to the local community when possible.
A WELCOMED DONATION: Brian McCauley (left) president of Felicity Visual Solutions, Inc., of Feasterville, PA, takes time to pose with a newly installed sign his company donated to the Southampton Free Library's Access The World Capital and Endowment Campaign. Pictured with McCauley are Gregory W. Crompton (center), chairperson of the campaign and Kim Ingram (right), librarian. The goal of the campaign is to raise $575,000 for modernization and refurbishing of the library and to enhance and expand programing for both children and adults. To make a donation or a pledge, contact Kim Ingram at 215-322-1415, extension 100 or email ingramk(AT)buckslib.org. The library is located at 947 Street Road in Southampton, PA.
With over 30 years of history in the sign industry, Felicity Visual Solutions specializes in carved, gold leaf, and sand blasted signs, but offers several solutions to meet their clients' needs, including a variety of exterior and interior signs, company vehicle graphics, event banners and tradeshow materials. Their wide variety of styles enables them to provide successful solutions to businesses from any industry.
Felicity Visual Solutions, Inc is a full service custom sign manufacturing and services company that proudly serves Bucks County, PA, the Philadelphia, PA Metropolitan Area, including Montgomery County, PA, Delaware County, PA, Chester County, PA and parts of New Jersey. We also ship products throughout the United States. We offer solutions for every budget.
To review their portfolio of work as well as inquire further about their services or request a quote, visit their website at: http://www.felicityvisualsolutions.com/